Have an opinion?
tellwut
you think.
$10 Cineplex Gift Card (CANADA ONLY)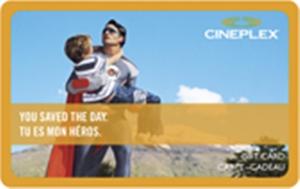 Description
$10 Cineplex Gift Card.*

Availability: Canadian panel members

Cards are sent via Canada Post to the mailing address associated with your account and will be fulfilled within fifteen days of redemption. Shipping times will vary depending on your location.

Gift cards can be reloaded at any Cineplex Entertainment Theater.

*Card may not be exactly as shown.