Have an opinion?
tellwut
you think.
$10 Tango Card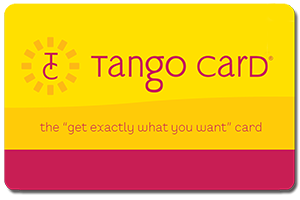 Description
$10 Tango Card

Availability: US Members who have redeemed before. if you have not redeemed before and would like this card, please email us at support@tellwut.com

Members will have their Tango cards e-mailed in the form of a Tango E-Gift Card. E-Gift Cards are sent directly by Tango. Orders will be fulfilled within fifteen days of redemption and should arrive within 24 hours of the confirmation email. Cards are non refundable once the order is processed.


Tango is the "get exactly what you want" card. Redeem your Tellwut points for a Tango Card*, then redeem your Tango Card at www.tangocard.com for any of the following gift cards: Target, Amazon.com, Gap, The Home Depot, Landry's, Nike, Fandango, Facebook, REI, Rixty, Pottery Barn, SpaFinder, Starbucks, iTunes® , Groupon, Zappos.com, 1-800 Flowers. OR donate directly to one of the following non-profit organizations: Habitat for Humanity, Summer Search, National Park Foundation, John's Hopkins, Grameen Foundation, America Scores or World of Children.