$25 CVS Gift Card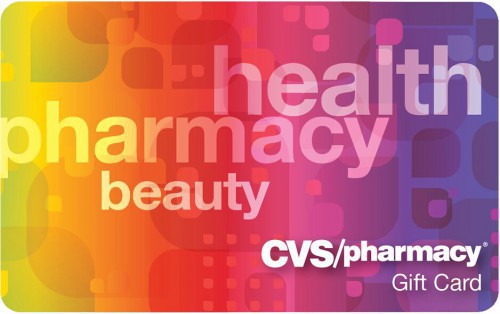 Description
$25 CVS Gift Card

Cards are mailed by National Gift Cards via USPS to the mailing address associated with your account and will be fulfilled within fifteen days of redemption. Shipping times will vary depending on your location Please allow 3-4 weeks for delivery.Cards are non refundable once the order is processed.

A CVS/pharmacy gift card is always a great choice. With more than 7,300 locations from coast to coast, CVS/pharmacy is the most convenient place to get the prescription medications and health care products you need. Plus, it provides a huge selection of popular beauty and personal care brands as well as exclusive brands you won't find anywhere else. Best of all, with the CVS/pharmacy ExtraCare® rewards program, you get 2% back on all purchases* plus $1 Extra Buck™ for every 2 prescriptions filled**. What better way to gift, reward or provide incentive than with the CVS/pharmacy gift card? It can be used at any CVS/pharmacy location and can even be used toward prescription purchases+. *Excludes alcohol, gift cards, lottery, money orders, prescriptions, postage stamps, pre-paid cards, tobacco products or items reimbursed by a government program. **Excludes pharmacy items paid for in whole or in part by state and/or federal health care programs. This includes, for example, Medicare, Medicaid and TriCare. Not valid on prescriptions purchased in NJ or NY. In Louisiana, not valid on any prescription for a controlled dangerous substance. CVS/pharmacy may, at any time and for any reason, exclude prescriptions dispensed in other states, other types of prescriptions, or prescriptions paid for by other payers. +Restrictions apply. CVS/pharmacy gift cards cannot be used on-line at CVS.com® or for any other retailer's gift card or prepaid card that CVS/pharmacy may carry.

TERMS & CONDITIONS: Protect this gift card as you would cash! This card may be used just like cash toward purchases at any CVS/pharmacy®. Cannot be used to purchase money orders or prepaid cards. Not redeemable for cash or credit except where required by law. CVS/pharmacy® cannot replace or replenish the card if it is lost, stolen or used without your authorization. This card is issued by CardFact, Ltd. Call Customer Service toll-free at 1-877-295-7777 should you have any problems concerning your gift card. To check the balance of this card, visit www.cvs.com. This gift card has no expiration date, and no dormancy or inactivity fees will be charged. Gift card retains unused balance and is rechargeable.

CVS is a reward partner and is not a sponsor or co-sponsor of this promotion.