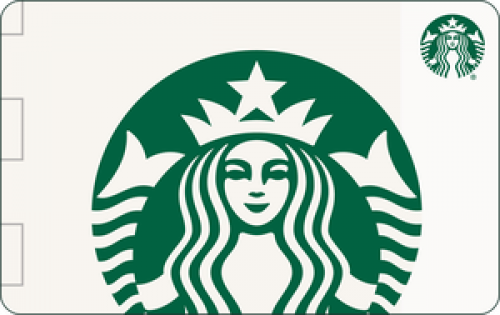 Product Description, Terms and Conditions is provided by product owner.
Description
E-cards are not sent automatically upon redemption. Orders will be fulfilled within 2-7 days of redemption. Once the order is fulfilled, you will receive a confirmation email and then the reward within 30 minutes. Please check your junk mail or contact support@tellwut.com if you did not receive your order. Cards are non refundable once the order is processed. E-cards are sent directly from our supplier Your Digital Reward.
Starbucks Card eGifts are digital gift cards that can be used for anything, such as a cup of the mellow Starbucks blonde roast coffee, a skinny mocha, or a hot or iced hazelnut macchiato. Use it all at once or across multiple visits, in participating stores.
Avec une carte Starbucks eGift c'est un moyenne instantané de montrer vote appréciation. Une carte Starbucks est toujours très appréciée.
---
Product Terms & Conditions
Treat this Card like cash.

Reload your Card, check your balance and find out how to register and protect your Card balance at participating stores, Starbucks.ca/card or 1-800-782-7282. Cannot be redeemed for cash unless required by law. Refunds only provided for unused Cards with the original receipt. This Card does not expire, nor does Starbucks charge fees. Complete terms and conditions available on our website. Use of this Card constitutes acceptance of these terms and conditions.
Traitez cette carte comme de l'argent comptant.

Pour réapprovisionner votre carte, en vérifier le solde ou savoir comment l'enregistrer et en protéger le solde, renseignez vous dans les magasins participants, sur le site fr.Starbucks.ca/card ou au 1 800 782 7782. La carte n'est pas monnayable, sauf si les lois applicables l'exigent. Seules les cartes inutilisées peuvent être remboursées sur présentation du reçu de caisse. Cette carte ne comporte aucune date d'expiration ni aucuns frais de la part de Starbucks. Pour connaître toutes les modalités, consultez notre site Web. En utilisant cette carte, vous en acceptez les modalités.