Results for - Why the American Flag is Sometimes Reversed on Military Uniforms
2,461 voters participated in this survey
Tim Marshall, the author of "Worth Dying for: The Power and Politics of Flags" explains why American flags are reversed on military uniforms.
1. Have you ever noticed the reversed American flag patch on military uniforms?
2. As Mr. Marshall explains, this is done on the right shoulder as a sign of respect for the American flag. Do you appreciate the fact that America's military will go to this extent to ensure that the flag is respected to this degree - it is never put in a position of retreat (the stripes move ahead of the stars)?
3. If you are American, do you think it makes sense that the patches are created this way?
4. If you are Canadian (or from another non-American country), do you think it is a bit obsessive that the military patches are made this way?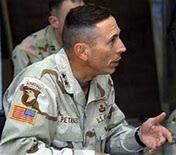 5. Do you see this as pride or arrogance?
I see this as arrogance, and I am an American
I see this as pride, and I am an American
I see this as pride, and I am not an American
I see this as arrogance, and I am not an American
06/06/2019
Careers
2461
47
By: bezdekbt
Comments