Results for - Liberal Government
1,602 voters participated in this survey
1. If you live in Canada, where do you live?
Prairies Canada - Saskatchewan, Manitoba, Alberta
Territories - Yukon, Northwest, Nunavut
Ontario, Quebec, Newfoundland
Maritimes - Nova Scotia, New Brunswick, PEI
2. Did you vote in the Canadian Election 2015?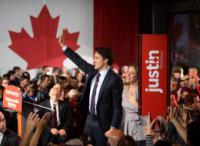 3. Did you vote for the Liberal Government?
No, wanted NDP or Conservative or Other
Not applicable. I am an American
4. Did you watch the results ungather on TV?
5. Are you looking forward to the Liberal Government for Canada?
10/27/2015
Politics
1602
30
By: darlamae
Earn Rewards Live
Comments