Results for - 2018 Billboard Music Awards
1,918 voters participated in this survey
1. At the very top of the Billboard Music Awards on Sunday night, host Kelly Clarkson, who is from Texas, spoke emotionally about the latest school shooting, on Friday at a Santa Fe, Texas high school. Barely able to hold back tears, she said the producers of the show wanted her to ask for a moment of silence, but Kelly said she's "so sick of moments of silences" and instead called for "moments of action".She went on to say, ""It's not working. Like obviously. So, sorry. So why don't we not do a moment of silence? Why don't we do a moment of action? Why don't we do a moment of change? Why don't we change what's happening' and ""We need to do better. We are failing our children, we are failing our communities. We are failing our families." Do you agree that enough is enough -- something has to change before another school shooting happens -- and it will if nothing changes?
I do agree, but not sure what can be done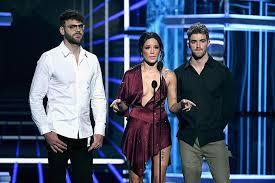 2. Later on in the show, before giving out the award for Top Hot 100 Song, TheChainsmokers and Halsley gave a short tribute to DJ Avicci, whose recent death has been revealed to be a suicide, and asked for awareness and understanding for others with mental illnesses. Do you agree that these artists have an obligation to use their platform to create awareness?
3. Music has long been a platform for social change and awareness. Some of the best songs have been songs of protest, social change or drawing awareness to causes near and dear to the performer's heart. Since the list is long, and I don't want to start any protests here (you missed some!) I'm only going to list some of the songs I love. Are your favorites on this list (and if not feel fee to add them)?
Turn! Turn! Turn!- The Byrds
Born This Way - Lady Gaga
The Way It Is- Bruce Hornsby and the Range
Born in the U.S.A.- Bruce Springsteen
Blowin' in the Wind – Bob Dylan
A Change is Gonna Come – Sam Cooke
Savages -- Marina and the Diamonds
4. One exceptionally powerful performance partnered Shawn Mendes and Khalid with members of the Majory Stoneman Douglas High School Show Choir singing "Youth", his song collaboration addressing what is happening in the headlines way too often these days. The opening lines go " Here I am, stuck on this couch scrolling through my notes Heart was broken, still not growing, nah Waking up to headlines, filled with devastation again My heart is broken, but I keep going". Do you feel songs like this can possibly make a difference?
05/26/2018
Music
1918
32
By: Harriet56
Comments