Results for - The Power Of Passion And Determination
2,175 voters participated in this survey
1. There wasn't a dry eye in the theatre. On last Tuesday's season premiere of America's Got Talent, 22 year old Kodi Lee, who is blind and has autism, positioned himself at the piano and brought the judges and audience to tears as he sang. "I'm going to remember this for the rest of my life," Simon Cowell said. New judge Gabrielle Union gave Lee the golden buzzer, which means he's going straight to the finals. Overnight, Lee has become a phenomenon. Did you see his performance on the show?
No, but I did see a clip of it somewhere else before this survey
No, first time I have seen this man perform
Did not/could not watch the video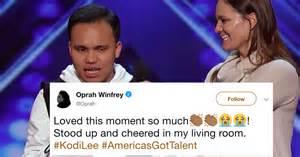 2. Kodi's story is an inspiration and a testament to the power of passion and determination. Despite being diagnosed with autism and having no vision in either of his eyes, Kodi hasn't let much stop him from his true potential. His mother Tina had told the judges that being a singer is Kodi's life-long dream, before going on to add that even when her son was an infant, the only thing he wanted to do was perform. He is one of only approximately 25 musical prodigious savant in the world today. Kodi's amazing gift lies within his musical expression, perfect pitch, and passion for all forms of music. Kodi has an audio photographic memory, in which he can recall music he hears after just one listen. An unbelievable gift in itself, but his musical expression and prowess top even that. He has been performing all over the globe for years. He also shares his gift to help bring awareness to autism and many other charitable organizations. Do you have a child or young adult with autism in your family, and if so, is this young man an inspiration?
I do, but this story does not inspire me
I do not, but this story is indeed inspirational
I do not, but I do not find this story inspirational
I have been diagnosed with autism and he is an inspiration
I have been diagnosed with autism and this is not an inspiration
3. This is not the first time a contestant on the show has risen above their "disability" to shine. In fact, AGT has had its share of inspiring stories, starting with Susan Boyle, who wowed the judges on Britiain's Got Talent in 2009, despite being on the Autism Spectrum. Do you remember any of these other contestants?
Drew Lynch acquired a stutter after a sports injury in high school. When he took up stand-up comedy, he used his stutter as an asset in his material, such as in jokes about voicing a GPS system. In 2015, he auditioned for America's Got Talent and earned Howie Mandel's Golden Buzzer.
Kechi Okwuchi is a singer who made the finale of Season 12 of America's Got Talent. She was one of two survivors of a plane crash in 2005. The crash left her with third degree burns over 65 percent of her body.
Lee Ridley, also known as Lost Voice Guy, won Season 12 of Britain's Got Talent. Ridley is a comedian with cerebral palsy who uses an iPad with a text-to-speech app to communicate
Samuel J Comroe has Tourettes syndrome, and uses his disability in his comedy to great effect, turning his disability into the subject of some of his material. Comroe's comedy won over the judges and audience on Season 13 of America's Got Talent, finishing in fourth place out of thousands of applicants.
06/01/2019
TV
2175
35
By: Harriet56
Comments