Results for - To Meat or No Meat?
2,421 voters participated in this survey
Some interesting facts about the subject....
"It was certainly the hardest thing I did during my "year of living ethically" for the BBC.
But Adolf Hitler managed it and so did Linda McCartney. Indeed, the government's former chief economist says we should all do it.
Are you there yet?
Yes, I am talking about giving up meat. Or, in my case, giving up all animal products."
  - Excerpt from Justin Rowlatt's blog (here) Think before you carve
(1st photo from http://www.ilmioquotidiano.net/?p=1617, 2nd from http://sunbonnetfarm.com/Cows.html)
2. Have you ever considered being a vegetarian or vegan?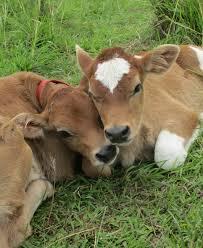 3. Would you stop eating meat for ethical reasons?
4. Would you stop eating meat for health reasons only?
5. Have you heard anything about meat consumption in relation to global warming?
6. Have you ever watched footage from a factory farm?
7. Do you think animals feel?
08/08/2018
Food & Drink
2421
92
By: mmbrown2000
Comments