Results for - Organic Vs. Non-Organic
2,804 voters participated in this survey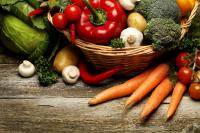 1. Is eating organic food important to you?
2. How often do you purchase organic food?
Not Applicable - I have never purchased organic food
3. In terms of location are there many places for you to access to purchase organic products?
4. Do you think that organically grown food has more nutritional value than conventionally grown food?
5. What is your biggest pet peeve concerning organic food?
It appears to be irregularly shaped
It goes rotten quicker than conventionally farmed items
The portion sizes are too small
I do not have any pet peeves concerning organic items
Not Applicable - I do not consume organic items
6. Why do you you choose to buy organically farmed food?
Not Applicable - I do not purchase organic food
7. Would you say that you are buying more organic products this year versus last year?
Buying about the same amount
Not Applicable - I do not buy organic
8. Do you believe that certain types of produce may be better to purchase organically?
9. According to the USDA food containing less than 70 percent of organic ingredients can't use the seal or the word "organic" on their product labels.
10. In seconds, how much time do you spend rinsing or washing fruits and vegetables before consuming them?
Not Applicable - I do not eat fruits and vegetables
10/02/2014
Food & Drink
2804
30
By: Tellwut
Comments