Results for - Goat Yoga Is So 2018...2019 Is All About Snake Yoga
2,228 voters participated in this survey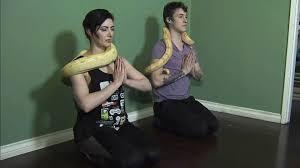 1. Forget goat yoga. One yoga studio in Vancouver is set to offer a yoga class with a twist -- snake yoga. A couple who loves snakes and yoga have decided to blend their two passions together and will hold a snake yoga class this January. The couple, Tristan Risk, and Joshua Burns hope that their snake yoga classes will also help folks who have a fear of the reptiles overcome it in a controlled environment. Why snakes, you might ask? "When we're moving around, when we're moving with a snake, a snake will adjust to the way that we're moving," Tristan explains. Would you try yoga with snakes?
I think this would be great
I wouldn't even try yoga, with or without snakes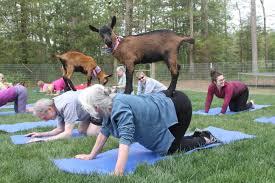 2. The benefits of yoga include increased flexibility and strength; decreased stress hormone levels; improved respiratory, cardio and circulatory health; and much more. It's a great practice that brings mindfulness and a sense of calm to your busy life as a result of its cardiovascular benefits. Lowering your blood pressure and improving your lipid profiles are two cardiovascular benefits from yoga that lead to stress-relief. While throwing in snakes may potentially increase your stress hormone levels (I know it would do that to me), there are many other forms of yoga that offer additional health benefits. Have you tried any of these yoga styles?
Goat yoga -- goats are unexpectedly smart, social and profoundly cuddly animals. They're also a lot of fun. Most goat keepers would agree, and claim that there is nothing better for raising one's spirits than watching goats play. Their exuberant joy is so contagious that it's nearly impossible to remain in low spirits around goats. People really enjoyed spending time with the goats, and the experience seemed to have a positive, calming effect on the participants
Kundalini yoga -- is one of those mysterious yoga practices that is as spiritual as it is physical. This form is physically demanding and mentally challenging and involves a lot of meditation, chanting, mudras and breathing exercises. The whole point if this style is to release the kundalini energy that is coiled in the lower spine.
Hot yoga -- the key feature of this practice is to do a set of poses in a room heated to 41 degrees centigrade and 40 percent humidity. In a 90-minute sequence there are 26 basic postures that are done twice and two breathing exercises. The heat makes you sweat excessively thereby getting your body rid of toxins while the postures work every part of your body and bring oxygenated blood to all your internal organs. Drink plenty of fluids to rehydrate.
Yin yoga -- if you are not into too much hectic activity, then Yin yoga is just the practice for you. This slow-paced style lets you hold poses for a longer time—from 45 seconds to two minutes. There are also a lot of seated postures and a focus on spirituality, inner peace and relaxation. By holding poses for a longer time, you stretch your connective tissue and make it more elastic.
Naked yoga -- only for the supremely body confident, nagna yoga or vivastra yoga as it is known in Sanskrit, involves doing asanas in the nude. The point is let go of self-consciousness and accept imperfections of the body.
Cannabis yoga/Ganjasana -- if there was a match made in heaven, this is it. Invented by a group in Colorado, smoking up while doing yoga will give you a more spiritual experience and heighten the effects of meditation.
Have not tried any of these
Not interested in yoga of any kind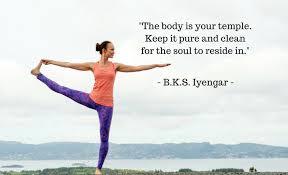 3. And if yoga wasn't great already (especially if you throw in cute little goats), here are some additional trivia you don't often hear about. How many of these did you know already?
Yogis wrote the first book ever. The Rig Veda is the first of the Vedas and contains thousands of hymns and Sanskrit mantras. It is believed to be the oldest known text in the world, dating back to 1500 B.C. or earlier.
Yoga improves orgasms and sex…and is even believed to help stop premature ejaculation.
The swastika symbol did not originate with the Nazis in WWII. The symbol was founded first in Hinduism and the god Vishnu. It is the symbol of the Sun god, Surya and represents the daily course taken by the Sun. It was also used as a charm to bring good fortune.
Ancient yogis believed we only had a limited number of breaths. So slow those inhales and exhales down for a longer life
Psychologist Carl Jung studied Kundalini Yoga.
The Indian Postal Service released a special stamp for yoga on June 21, 2015 for International Yoga Day
01/11/2019
Health & Fitness
2228
30
By: Harriet56
Comments