Results for - Group Therapy
611 voters participated in this survey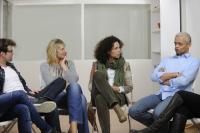 1. Which kind of people annoy you the most?
super-parents (in love with their kids)
2. The worst traits in a boss are
a micromanager (gets her nose on everything)
a compulsive delegator (has everyone else do everything)
a "talker" (vents, tells stories, brings up past events or just won't shut up)
an anal retentive perfectionist
3. Your family would embarrass you when they would
4. Your most dysfunctional family member is/are
5. A family member you CAN trust is
6. Your worst character trait is/are
It's not me, its everybody else!
I am perfect, smart, and epic....people just don't "get it"
7. My view on therapy is
it is helpful; everybody should try it at least once
society stigmatizes therapy
I can't live without therapy
I would NEVER dare to do therapy
I'd rather go to therapy and vent my issues than tell a friend.
07/19/2012
Health & Fitness
611
7
By: herappleness
Comments