Results for - Bone Marrow – Should it be available for sale versus allowing donation only? Doreen Flynn challenges the donation law.
1,736 voters participated in this survey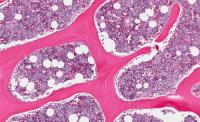 1. In Canada and the US bone marrow is not legally available for sale. Though the issue is making its way through the courts in the US, there has been no movement on the issue in Canada. Most bone marrow donations can now be done through the process of withdrawing blood. Do you believe that bone marrow should be available for sale?
Yes, one should be able to pay for a bone marrow
No, the donation of bone marrow should be just that – a donation
2. Organ donation laws which make it criminally illegal to pay for organs are…
Outdated and another example of big brother control
Promoting the black market and putting citizens in danger of risky transplants in unregulated markets outside of US and Canada
Important as they provide us with a safe and appropriately screened donator system
Important as they provide a group of altruistic people to draw on for donations
3. Do you think that bone marrow should be lumped in with organ donation laws?
09/27/2012
Health & Fitness
1736
15
By: sassy
Comments