Results for - Schools and Stairs
2,111 voters participated in this survey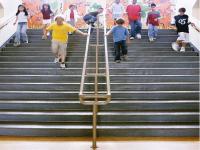 1. Did any of the schools you attended as a child have stairs?
2. If your school had stairs, did you go up and down the stairs many times per day while in school?
3. Most modern day schools are built on one level. If you have a child attending school, does their school have stairs? (If you have more than one child attending school, do any of them attend a school with stairs?)
4. Tips on how to get more exercise usually include the suggestion that people always use the stairs. Do you think the fact that most children are no longer going up and down stairs multiple times per day at school could be a contributor to childhood obesity?
11/29/2014
Health & Fitness
2111
27
By: Bboopy13
Earn Rewards Live
Comments