Results for - Prom -- All The Emotion And Danny DeVito
2,081 voters participated in this survey
1. Eighteen-year-old Morgan Coultress of San Antonio, Texas, had been in a wheelchair for 10 months, after suffering with conversion disorder following an operation. Conversion disorder is a mental condition where a person has blindness, paralysis, or other nervous system (neurologic) symptoms that cannot be explained by medical evaluation.However, she wasn't going to let that stop her from making an appearance, and make an appearance she certainly did. In a viral video that has garnered over 11 million views, Morgan walked for the first time in 10 months, and was able to make prom night extra special for her date, her friend Tarik, who has been her biggest supporter all this time. Have you seen this video before this survey?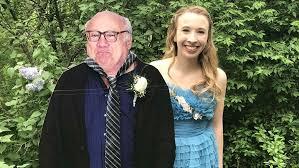 2. When she couldn't find a suitable date to accompany her to prom, one Pennsylvania high school student took an unorthodox approach -- she brought a cardboard cutout of actor Danny DeVito to the dance as her date. Allison Closs and her famous two-dimensional date joined other Carlisle High School seniors May 11 for prom. DeVito starred in the classic TV series "Taxi" and films including "Twins" and "Batman Returns." He also starred in the hit comedy "It's Always Sunny in Philadelphia." Closs thought he was worth the $100 price tag. The teen dressed up her cardboard date with a tie from her brother's closet and a boutonniere. She duct-taped him to a cheap plastic scooter, which she wheeled around using a leash. Did you take a date to your prom, and if not, would you have done what this young lady did -- take a cardboard cutout as your date?
I went on my own, and would not have done this
I went on my own, and would have done this
Did not go to prom/did not have a prom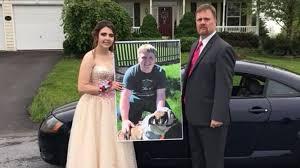 3. A Pennsylvania student who was left heartbroken after her boyfriend tragically died in a car crash weeks before the happy couple were supposed to attend their high school prom together managed to attend the event - with his father as her date. Kaylee Suders, 18, and Carter Brown, 19, had been close friends for three years before becoming romantically involved 11 months ago. After his sudden death, Carter's father Robert Brown set out to ensure Suders still enjoyed her prom night, asking if she would allow him to escort her in his son's place. Suders was deeply touched by the offer, as she had originally decided she would forgo prom altogether, as she'd find the evening too sad in light of her boyfriend's absence. Robert phoned Suders' high school to ask permission from them before asking the teen herself. Suders has been welcomed into the Brown family since Carter's death, with both of his parents explaining how the prom helped give them all a well-needed boost of positivity after what has obviously been an incredibly difficult time. Don't you think this was an incredibly sweet thing for the father to do this? .
05/26/2018
Living
2081
25
By: Harriet56
Comments