Results for - Bride Attaches Baby to Wedding Gown and Drags Her Down the Aisle
1,967 voters participated in this survey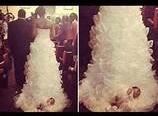 1. Bride Shona Carter-Brooks of Tennessee attached her one-month-old daughter to the train of her wedding gown in order to include the child in her wedding. The bride posted pictures of the baby attached to the gown on Facebook, which attracted much online criticism. Have you heard about this?
2. Some people said this was child abuse, pointing out the infant may have been jostled. Many felt it would have been more sensible to carry the baby. A woman who stated she served as wedding coordinator defended the action, arguing this "indicates the dedication of her mother toward caring for her child and family." How do you feel about it?
It wasn't child abuse, but carrying the baby would have been more sensible
3. Have you ever attended a wedding in which a child was included in the ceremony in an unusual way?
06/13/2014
Parenting
1967
49
By: Bboopy13
Earn Rewards Live
Comments