Results for - National Wedding Month
2,530 voters participated in this survey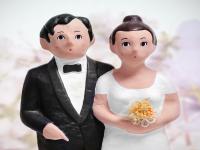 1. The average American wedding is hovering around $30,000. Do you think this is a reasonable figure?
2. Do you feel that wedding themed television programs such as Say Yes to the Dress, I Found the Gown, Four Weddings, Bride by Design, Bridezillas, and My Fair Wedding have upped the ante of having big, lavish weddings?
3. Do you feel that social media has influenced people's desire to have large, expensive weddings?
4. If money wasn't an issue, would you rather have a large wedding or a small simple wedding?
5. February is National Wedding Month you might think it's because the "day of love" is in February, but according to the National Association of Bridal Consultants, that's not it at all. Instead, February is when most couples begin planning Summer and Fall weddings. What do you think is an acceptable amount of time to plan a wedding?
6. Have you heard of getting insurance for your wedding and/or engagement ring?
7. Do you think getting insurance on your wedding and/or engagement ring is a waste of money? Most wedding insurance policies cover things like: -Loss of your deposit and incurred expenses due to a canceled event due to bad weather -Wedding gifts Photographs and videography -Special wedding-day jewelry -Liability coverage -Liquor liability -Some other big ticket items and expenses related to a wedding
02/26/2015
Seasons
2530
44
By: Tellwut
Comments