2020 e-Commerce and Packaging Trends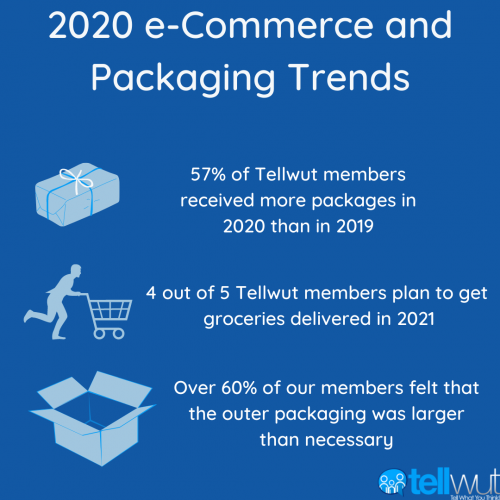 2020 was the year of change. The year taught us to reimagine our lives in ways we have never thought before. Getting groceries and other packages delivered at our door was a matter of convenience in 2019. In 2020, it became an absolute necessity.
Black Friday, the biggest shopping day of the year, saw the highest sales of last year as we filled our virtual carts instead of real ones. According to our recent survey, 57% of Tellwut members received more packages in the year 2020 in comparison to 2019.
Around 4 out of 5 Tellwutters plan on getting their groceries home delivered this year proving that online shopping will continue rise in 2021 as well.
Most of the existing online retailers fail to provide plastic free packaging options to their increasing customer base.
Nearly 78% Tellwut members did not check for sustainable packaging options before ordering online and over 60% of our survey takers felt that the outer packaging was larger than necessary.
As we continue to receive our packaging delivered in multiple layers of unwanted wrappers, we remain concerned about the absence of sustainable packaging and its toll on the environment.