How Bloggers Can Utilize Online Surveys to Learn More About Their Audience?
Getting more likes on your food blog? How about subscribers? If your answers are yes, than that means that you are providing quality content for your readers and more and more people are interested in receiving updates about your new posts. However, do you know who actually likes your blog? Do you know their age, their gender? How did they find out about you? How about what their favorite blog topic is? All of these questions can be answered by using online surveys. Online surveys can be a valuable supportive tool in addition to your blog metrics. With the information collected through surveys, you can tailor your content to your audience and continue building stronger content and gain popularity in the online world. If you are a food blogger and you love writing about the nutritional value of food that you cook but your readers actually prefer seeing more infographics consisting of this information. How would you know that? Possibly, by analyzing your blog metrics and comparing infographic posts visits and engagement with regular blog posts visits and engagement. However, how would you find out who they actually are? Your audience can consist of women in their 20's or more mature women in the 30's and 40's. Is the audience you are targeting in comparison to the audience you actually receive traffic from? Good questions to find out by sending out a survey. (
See our bloggers survey template.
) Customized with your logo, the tailored to your blog survey can easily provide you with that information and even assist you with growing your followers on Twitter or Facebook through exit an URL link at the end of your survey.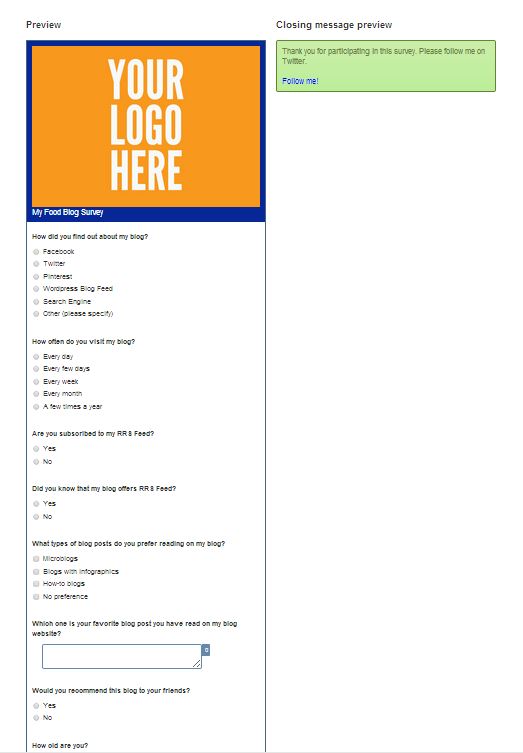 Learn more about your audience and track it over time to ensure that you are staying on track with your plans and expectations. Tellwut offers budget-friendly online survey solutions that bloggers can take advantage of hassle free. Sign up today for a
FREE TRIAL
.