Refer A Friend & Affiliate Program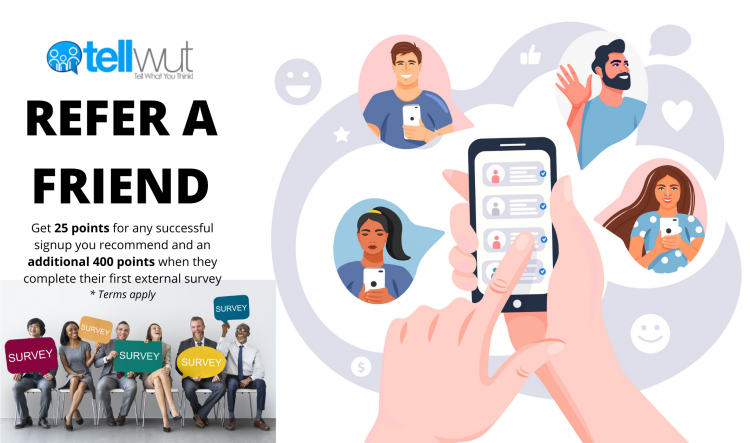 Refer a Friend & Affiliate program updates.
Tellwut is improving! How you ask? We're making it more exciting to bring friends to Tellwut!
Tellwut is way more fun when you have close friends to discuss surveys and results. And members who have seen it all, know the best ways to use the site to get rewards. To reward veteran members, we're now offering more points to refer friends:
25 points for any successful signup (with email confirmation) you refer
400 extra points when your friend completes their first external survey
How do I get started?
Become a member of the Tellwut Network.
Complete minimum 2 external surveys (from Earn Rewards Live / Available Surveys page).
Go to "Balance" option in the left hand menu.
Click on "Refer Friends".
Copy the link in the green box. The link format is http://www.tellwut.com/register/?refer=USERNAME where the "USERNAME" is replaced with your own username.
Share the link with your friends. In order for points to be awarded to you, they need to sign up from your personalized link.
Once your friend signs up and confirms email, you automatically get 25 points.
Once your friend completes their first external survey (from Earn Rewards Live / Available Surveys page), you automatically get an additional 400 points.
You can redeem rewards starting at 4,000 points, for which you will receive any of the gift cards listed here. Your balance is cumulative of referral points as well as points for surveys.
If you have not yet completed 2 external surveys from Earn Rewards Live / Available Surveys page, you will only qualify for the 25 points reward when your friend signs up. So get those 2 surveys completed quickly and increase your rewards!
Limitations
To discourage SPAM, we will only award points for 50 referrals per month per member. Please also refer to our T&C for guidelines on referrals.
If you are a Blogger, Influencer, YouTuber, or in general a person who owns an online domain with advertising, and would like to drive traffic, please contact Support at support@tellwut.com. Please note we reserve the right to remove referrals who do not comply to our T&C (listed below but not limited to):
Advertising may not offer an incentive outside of Tellwut Network to the referred party for joining or completing surveys.
Advertising may not be done on adult websites, gambling websites or sites that encourage illegal activities.
Accepted referrals must reside in Canada or US.
If there is suspicion of fraud/fake signups we reserve the right to deny payment and suspend the fraudulent accounts.
Share on Social Media if you feel this news would spark a conversation with your friends! On Tellwut we help you influence brands and earn money by taking online surveys and sometimes look at life from different perspectives. Be Social, Be Heard, Take Surveys, Earn Rewards. Log in to your account to continue earning or sign-up if you're not yet a member.