Survey Finds The Statue of Liberty and The Wizard of Oz to Be Amongst the Most Enduring American Icons in a July 4th Poll
Toronto, ON (PRWEB) July 10, 2012 To celebrate the July 4th holiday, online survey site tellwut.com asked 300-400 of their voter members to identify the most iconic Americana in a number of different categories What is American music? Rock 'N' Roll was the most popular answer with 42% of the votes. Country music was the closest runner up with 30%. Jazz, often described as America's music polled only 9% with Rap and R&B taking 7% and 6% respectively. The quintessential American novel? Harper Lee's To Kill A Mockingbird received the most votes in this poll with 25%, closely followed by Mark Twain's The Adventures of Huckleberry Finn with 22%. Moby Dick, The Great Gatsby and Gone with the Wind also received in excess of 10% each.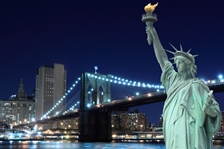 The city that best defines the country: there was only one winner. New York City romped home with 63% of the vote and only Chicago came close to 10%. The definitive American film was deemed to be The Wizard of Oz with 21% of voters choosing it over Gone with the Wind, 15%; Star Wars, 13% and It's a Wonderful Life, 12%. 37% of voters chose Coca-Cola as the definitive American brand, above McDonalds, 17%, Levis, 16% and Disney 9%. Although given the option, very few opted for the new technology brands. Of the four largest corporations to emerge from the internet revolution only Apple polled more than 4%. Finally the question was posed - What is the definitive American icon? The winner: The Statue of Liberty, chosen by 40% of voters, over the Stars and Stripes, 21% and The Bald Eagle, 12% And as for food, Apple Pie topped the list with 20%, narrowly beating out Hot Dogs and Hamburgers.