Tellwut 2.0 Has Launched!
Last year, Tellwut members spent over 507,000 combined hours on our site. And since we were created in 2012, we've had over 10 million votes on Member Polls. You and other Tellwutters have given the community a lot of time and effort and we've been listening to your feedback and using those millions of interactions to develop some upgrades to the member experience in 2023.
Starting today, you'll see an updated Tellwut site with lots of new features! Our goal is to freshen up the look of the community with easier navigation, creating a one-stop-shop for Member Polls and interactions in Tellwut Social, more opportunities to earn rewards, and a reduction in advertisements. And this week to celebrate, we're giving members an additional 50 Points for each Earn Rewards Live study you complete.
Our blog below will guide you every step of the way. If you love what you see, or have any suggestions, reach out to us at support@tellwut.com.
Let's get started! Here's our brand-new front page. Ready to log in and earn points? Click the login button at the top of the page and enter in your email and password.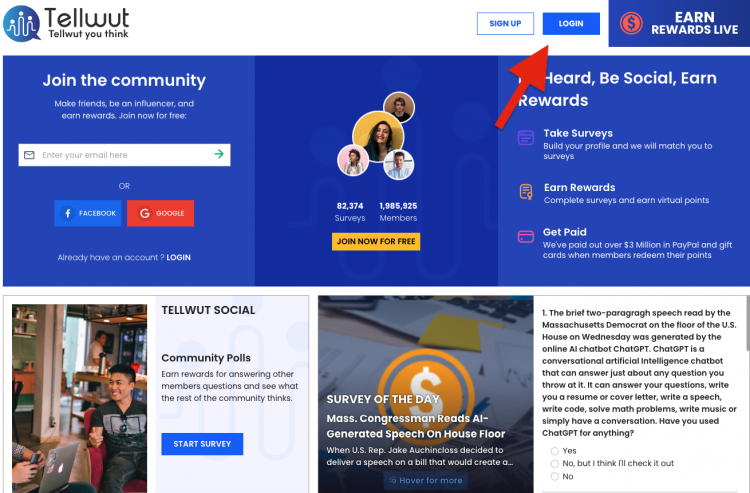 Get ready to explore your Tellwut account! After logging in, you'll land on your main account page. In the upper right-hand corner, you can see your points balance and notifications. You can also easily access the Earn Rewards Live page to participate in high point surveys. Click the drop-down arrow beside your profile picture to access settings, account, or log out. The center of the page features our Community Updates, where you can stay informed about the latest Tellwut news. On the right, quickly see how many points you've earned recently and how many ERL surveys you've completed. You can also create new Member Polls or take advantage of easy-to-access Hot Surveys to earn even more points! On the left, you have our sidebar, where you can easily navigate to all the essential pages, like Balance, your Profile, and Earn Rewards Live.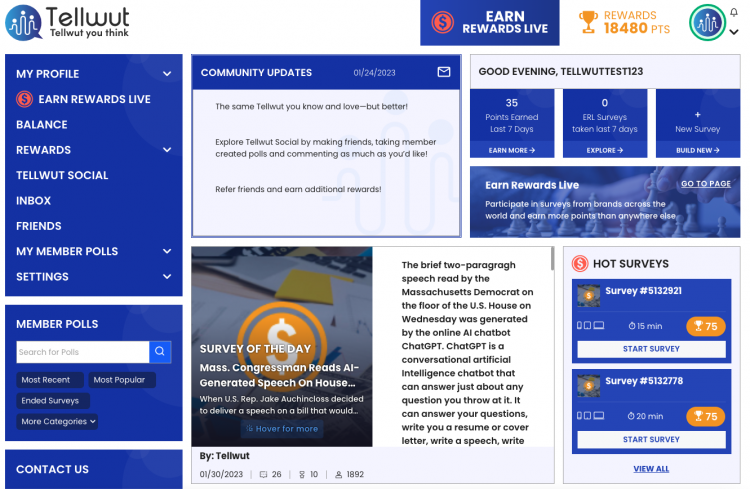 Looking to complete our daily member polls? Simply click Most Reccent on the left hand side when logged in or click Tellwut Social and you will have access to the member created polls!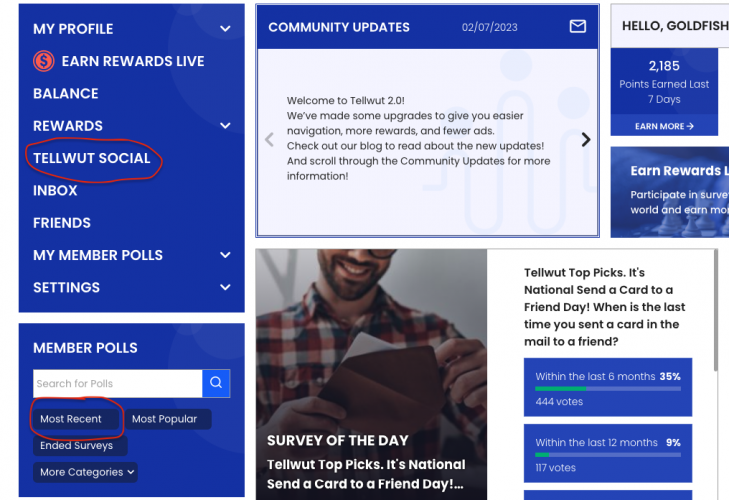 Lets' take a closer look at our sidebar on the left! Expand your options by clicking the arrows beneath each header. Ready to redeem? Click the Rewards arrow and then "Rewards" to see our current redemption offerings. Want to keep track of your previous orders? Check the "Orders" section. Under "My Member Polls," revisit your past polls or create a new one. "Settings" is your control center - manage your account, adjust privacy settings, and customize your public profile. You can even upload a profile image and change the site theme between light and dark mode. You also have our standard pages such as Earn Rewards Live, Friends, Inbox and more!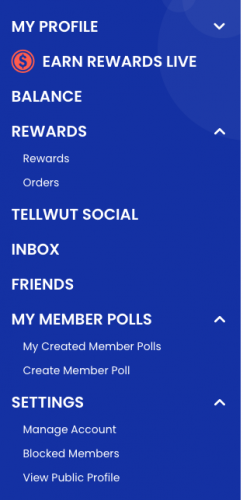 Update your personal interests and information at any time by clicking the My Profile drop down arrow. Make sure you keep this information up to date, so you'll get high point surveys customized to your profile!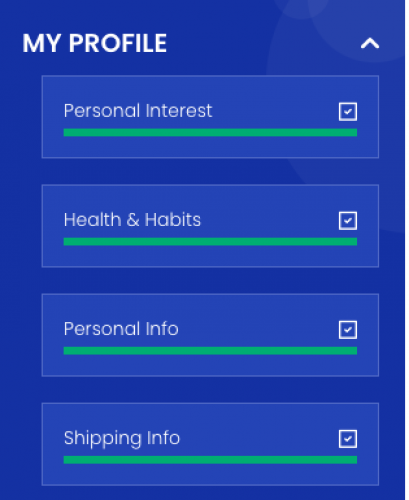 If you're on a page with no sidebar showing, simply click the hamburger icon at the top of the page and the sidebar will pop out for you.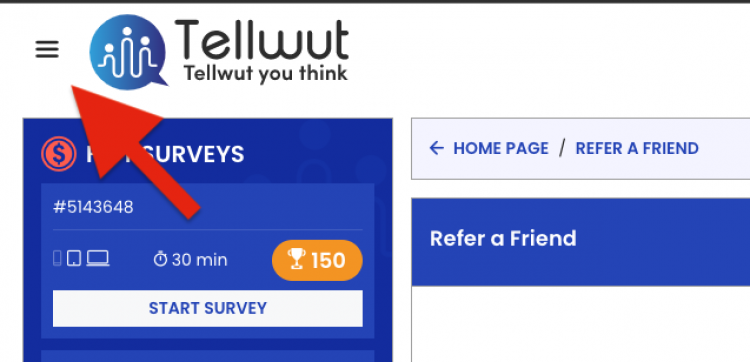 Ready to earn more points? Head on over to our Earn Rewards Live page where you have access to tons of external surveys that are tailored to your profile for maximum qualifying opportunities. But first, make sure your Profile section is fully completed and updated - this way you'll receive the surveys that fit you best!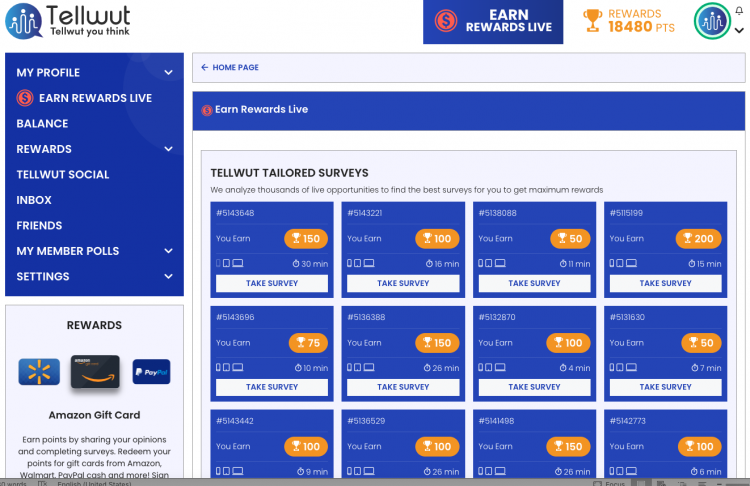 On the Balance page, get an in-depth look at how you racked up all your hard-earned points and keep track of your grand total. You can filter by type, status, or date as well as search by point description.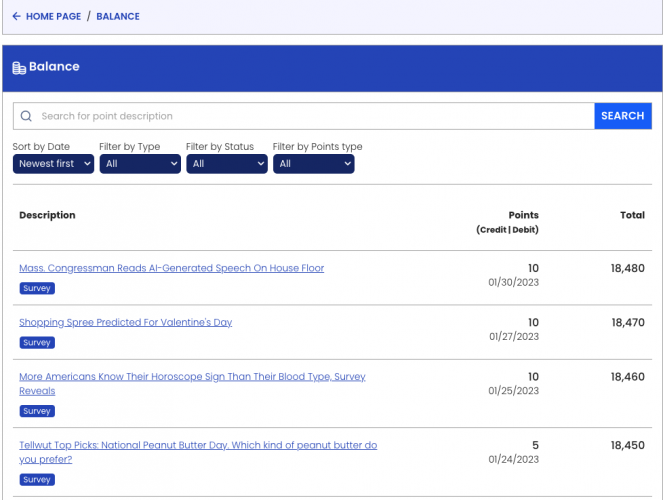 Now it's time to cash in on all that hard work! Head on over to our Rewards section to see what options we have! Click the Rewards drop-down area on the sidebar, then click Rewards. From there, you can filter between e-cards sent via email, physical cards sent in the mail, and PayPal cash. Your next reward is just a few clicks away!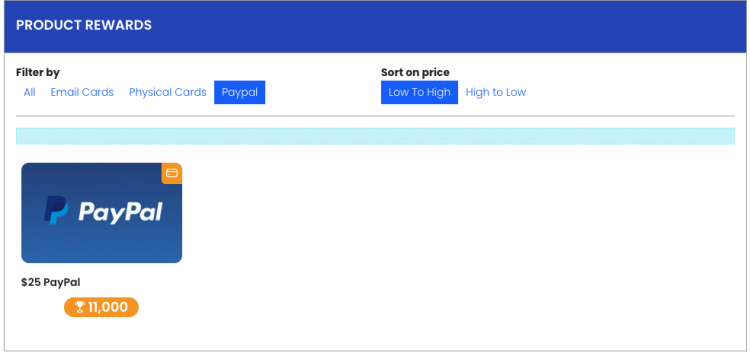 Want to take a break from Earn Rewards Live surveys and interact with other members? We're excited to introduce Tellwut Social! From completing the Survey of the Day to creating your own member polls, this is the place to express your opinions and connect with friends. See what others are buzzing about with our Most Recent polls and earn points for your insights. Access to tailored external surveys is just a click away on the left-hand side, so you can rack up those Tellwut points to redeem for rewards quickly. Tellwut's more fun with friends! If you have friends, you'll see them displayed on the right-hand side. Ready to add more? Simply click a member's username to view their profile and add them as a friend. As always, your voice matters at Tellwut, so don't be shy - comment as much as you want on Member Polls!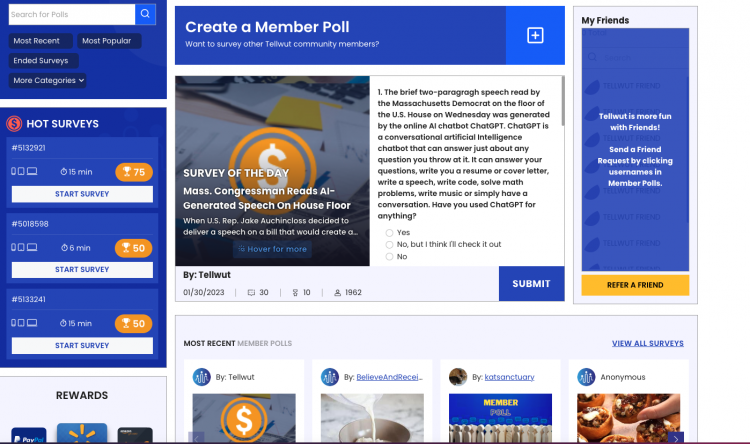 Time to get those creative juices flowing and create a member poll! When you click "Create a Member Poll", you'll be taken to a page where you can craft your survey, from the title to the description and more. You won't need to choose between creating a multi or single question surveys, simply enter your survey title and let the ideas flow. Whether you feel like crafting a multi-question masterpiece or keeping it simple with a single question, the choice is yours!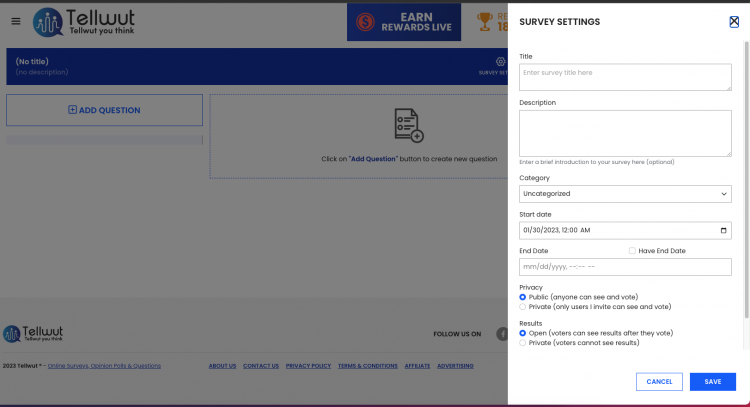 Now that we have a survey title and description, it's time to add some questions. You can always click on the title or description to change or edit them at any time! Once you add some questions, you're ready to preview your survey and send it to us for review!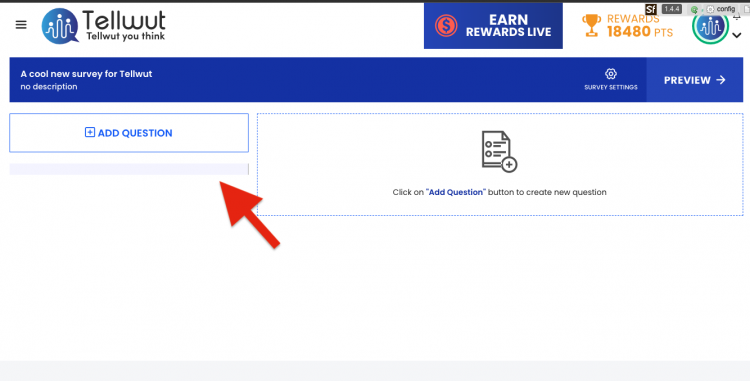 We hope you enjoy the new site as much as we do! We can't wait for you to explore and have some fun. If you have any questions or want to share your thoughts, don't hesitate to reach out. Drop us an email at support@tellwut.com or use the Contact Us button and select the Feedback category. We can't wait to hear from you!