Tellwut Announces the Launch of Embedded Online Survey Widget
Tellwut gives clients control over serving surveys directly from their site via use of Tellwut's embedded online survey capabilities.
Tellwut announces the launch of its
embedded online survey
feature. This, coupled with Tellwut's
mobile optimization survey,
feature provides clients greater flexibility when serving surveys and gathering data for market research. Embedded surveys are an effective tool when aligning with today's technology. Providing the capability to integrate a survey anywhere on your web platform enables the engagement between company and customer in a two-way conversation. Obtaining data through this integrated tool provides the ability to maximize response rates; gaining rapid data collection while amplifying brand across web platforms. When adapting to today's technology, having the right engagement strategies is essential in connecting with clients, employees, stakeholders, and business affiliates. Surveys are a proven method in gaining effective insights, and using these web survey tools can generate significant data collection for use in understanding concepts and or issues surrounding consumer insights, employee satisfaction, economic impacts, etc.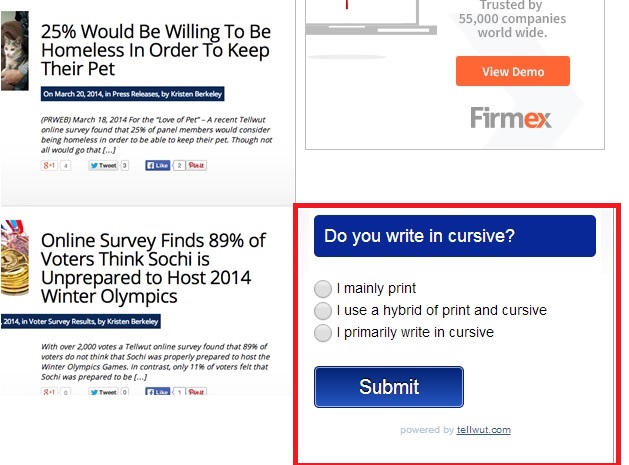 Refining data gathering through an embedded survey widget can be useful on:
Homepages for a dynamic first impression
Company blogs to allow feedback on discussions
Landing pages for higher engagement
Embedded survey widgets provide the convenience of allowing an audience to take online surveys while on a web platform. This encourages greater response rates, an engaged audience and reliable data collection for strategic decision making.
About Tellwut®
Tellwut provides
online survey
tools coupled with a community of respondents; providing quick and easy self-serve solutions for online market research needs. The Tellwut respondent panel is a significant North American online forum of individuals dedicated to expressing their opinions through online surveys based upon a wide variety of topics in exchange for rewards and the Tellwut community experience. The Tellwut community and proprietary online survey and reward software application provide a platform for organizations to send surveys to their stakeholders or to crowdsource and conduct
online market research
through the use of the Tellwut survey platform and the Tellwut Community; thus allowing businesses a clearer understanding and insight into their products or services, customer sentiment and potential business opportunities.