Tellwut survey finds 39% will not return to gym or will return less frequently after COVID-19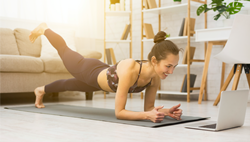 TORONTO (PRWEB) JULY 02, 2020
Covid-19 has forced gyms and fitness centers to temporarily close down, but the longer exercise facilities remain closed, the more comfortable people become in their home workout routines. As people discover the ease in which they can work out at home, the desire to return to their expensive gym memberships diminishes. Another aspect which makes a return unlikely is the investment people are putting into their home gyms, making their houses better suited for working out, while also incentivizing them to stay home and continue to use them.
Tellwut's survey found that 40% of the respondents who spent money on fitness prior to the pandemic are no longer spending money to stay active during stay-at-home measures, and of that, 16% say they will continue to not spend money on fitness even when gyms are open. 52% of respondents stated that they were still spending money on fitness, but were now spending less during the pandemic while remaining physically active, and of that, 31% are expecting to maintain this decrease in spending following the end of stay-at-home measures.
Alongside the decrease in spending on gym memberships is an increase in spending on home workout equipment, as 21% of respondents stated they have purchased equipment for their home gym during the pandemic, and 49% stating they already owned equipment for their gym prior to social distancing measures. This displays the high-level of adaptability of people to work out without fitness classes or the gym, as it shows the increase in the demographic of people able to work out at home with an increase in which workouts are feasible for them.
Of the equipment purchased during COVID-19, treadmills and free weights seemed to be the most popular among survey respondents, but others purchased a variety of stationary bikes, Peloton Bikes and ellipticals. 6% answered that they had purchased a stationary bike or a Peloton Bike, meaning that there is an increase in the market which can participate in virtual spin classes.
As with many other service industries, gyms and workout classes will suffer purely because of the fear of spreading COVID-19. For these businesses to retain their original customers, gyms will have to put into place significant measures to ensure sanitation. Tellwut respondents mainly favored heavy sanitation and distancing protocols, but there was a large request for capacity restrictions and customer screening.
The pandemic has also increased the market of physically active people, as 13% of the survey group who did not work out before the pandemic, began to work out at home, and 14% of those who previously worked out at home now find themselves increasing their daily physical activity. This presents a new opportunity for virtual workout options, which would exist at a discounted price to traditional gym memberships.
Of the people working out from home, the most popular responses for how they found their workouts were free apps, free routines, or free online descriptions of workouts. This hints that people are less likely to pay for digital workouts as an abundance of free resources are already available.
All of this points to the potential of digital workout spaces, given an increase in physically active people and a lessening desire to attend workout classes and gyms because of health concerns along with the ensuing financial benefit. The future of the fitness industry following the COVID-19 pandemic points to a massive drop-off of in-person services, but a steady increase in the demographic of active people, proving that new means of fitness will be more feasible.
About Tellwut
Tellwut® is a North American community of individuals dedicated to expressing their opinions through online surveys based upon a wide variety of topics in exchange for rewards and the Tellwut community experience. Tellwut Insights uses this proprietary survey and reward software application to provide a platform for organizations to send surveys to their stakeholders or to crowdsource and conduct online market research quickly and easily through the use of the Tellwut survey platform and the Tellwut Community. Businesses gain a clearer understanding and insight into their products or services, customer attitudes, and potential business opportunities.