Tellwut Survey Finds 47% Have Enough Savings to Survive 3 Months of the COVID-19 Pandemic.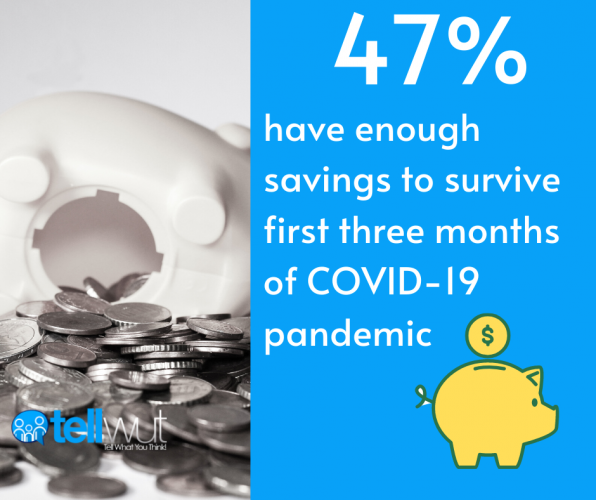 To manage the COVID-19 pandemic most health experts around the world are prescribing a strict lock-down of cities and the closure of non-essential services. With most people living in self-quarantine the economy is being impacted negatively. Many people have been laid off from work and are not earing enough to sustain themselves.
One of Tellwut's members conducted a survey of more than 2,700 Tellwutters from the USA and Canada with respect to their savings during the initial phase of the pandemic. The results indicated that overall 47% reported having enough savings to help them survive the first 3 months of COVID-19 pandemic. On the other hand, 38% said they do not have enough savings, while 15% were uncertain.
At a country level, 51% of Canadians reported having enough savings, while only 45% of Americans said the same. Based on age, 63% of those 65+ said they could surviive the first three months, with only 35% of Millenials (18-34) saying the same.
On a positive note, governments in both countries have started providing financial aid to people who are severely affected. This help is specifically targeted towards individuals who have lost their job due to COVID-19 pandemic and the hope is that it will help them survive the lock-down period.
Do you think governments are doing enough? Comment in our blog comment area below.