Tip Baiting on Instacart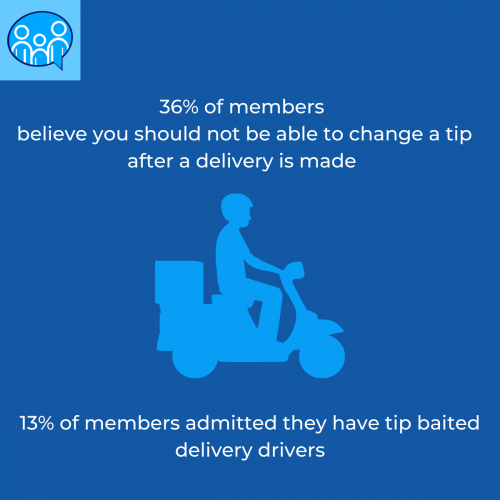 Instacart, the online grocery delivery service, recently changed their practices so that users can only tip on the app within 24 hours, instead of the usual 3 days. This is due to the increase of tip baiting that Instacart workers have been experiencing, as COVID-19 has led to a higher volume of people using grocery delivery services. Tip baiting is the practice of people promising a large tip to get their delivery done more quickly and efficiently but then change the tip to a lower amount or to $0 after the delivery. As people struggle financially during the pandemic, more Instacart customers have been tip baiting in order to get their order faster but save money on the tip.
In a survey of over 3000 North American Tellwut members, 13% had admitted to tip baiting in the past. Even more interesting, 27% admitted they do not tip at all on deliveries while 39% tip before the delivery and 34% tip after. 27% have also admitted they have changed the tip after a delivery was made if they were not satisfied with the delivery or delivery person. 36% of respondents agreed that tips should not be able to be changed after the delivery, while 24% said they should and 40% were undecided.
In a separate Tellwut survey, only 11% of members said they use the Instacart service and only 17% bought their groceries online or through an app during the pandemic. 12% did not have this option available in their area. With COVID-19 cases surging in many parts of the US and Canada, it will be interesting to see how respondents' attitudes change towards tipping if they need to order groceries online for longer, and if more people will start using grocery delivery services like Instacart.
For affordable market research to help grow your organization, contact Tellwut https://lnkd.in/erP4U9H