Results for - Tom Cruise, Are You a Fan Still or Not Anymore?
2,371 voters participated in this survey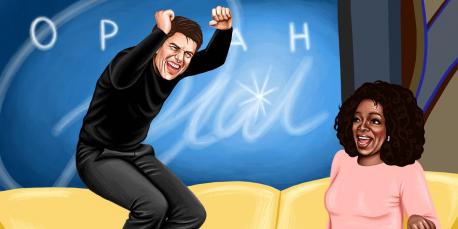 1. I used to be a huge fan of Tom Cruise. Who can't forget his amazing role in Top Gun? But then, socially, he admitted that he made mistakes. If you used to be a fan but no longer are, choose the event that led up to you unfanning Tom Cruise:
One of his movies caused me to no longer be a fan (it would be great if you mentioned the movie)
When he jumped on Oprah's couch (2005)
One of his divorces or relationship breakups (please mention which one)
Specifically the split from Katie Holmes in 2012, the Scientology and his daughter Suri
When he started to speak about Scientology
When he blasted Brooke Shields for taking antidepressants in 2003 for postpartum depression after the birth of her daughter
Tom's downward spiral ended in humiliation when Paramount Studios axed its unique 14-year deal
2. After a bit of research, I found a site that mentions the 13 largest mistakes made by celebs. Check off the ones that you know or remember:
Jennifer Love Hewitt Started a Music Career -- She had a good acting career so she decided to give music a shot. Her song "BareNaked" was 31st on the Top 40 list but that's the most success she got in that field. She lost her shot at being a movie star and stayed on the small screens.
Brendan Fraser's Ugly Public Divorce -- The Mummy trilogy had just launched Brendan's career but his wife and mother of three children wanted to divorce him. She asked for a yearly alimony of $900,000. It took a toll on his life and career and he pretty much had to take every role that was handed to him.
Marrying Tom Cruise Was Katie Holmes' Biggest Mistake -- Tom kind of lost his mind for a certain period of time and that was when Katie married him. She ignored the signs and stayed with him. He then bought a machine for ultrasounds when she got pregnant and when things got too crazy, she asked for a divorce. Being with him took a toll on her publicity and career.
The Embarrassment of John Travolta at the Oscars -- He was supposed to introduce Idina Menzel at the 2014 Oscars, the only problem is he called her Adela Dazeem. It's okay to mispronounce someone's name but how do you manage to mess up that bad?
The Kristen Stewart Cheating Scandal -- When she got together with her Twilight co-star Robert Pattinson, everyone saw them as the perfect couple, so a lot of Twilight fans were extremely mad when the pictures of her with another guy shut the internet down.
Katherine Heigl Had an Ego Trip -- She has a huge ego which took over her when getting an Emmy for her role in "Grey's Anatomy." She had the chance to make an amazing acting career but because of her ego trip, she flunked in her movie roles and also left "Grey's." She returned to the TV screens once again in "Doubt" but the ratings aren't going well.
Tobey Maguire Shouldn't Have Done "Spider-Man 3" -- For starters, it was a bad movie. To make matters worse, there was a montage of him doing the "Evil Dance" which was ridiculous. He did land a role in "The Great Gatsby" but he didn't give it his best. And then he also got divorced last year.
Tom Cruise Became a Spokesman for the Church of Scientology -- After several failed marriages, Tom decided to find his religion and he chose Scientology, which would be completely fine if he hadn't dragged his daughter with him too. That's why Katie Holmes took Suri away with her.
No One Knows Why Kevin Costner Chose Bad Movies When He Had an Amazing Career -- "Waterworld" was awful, but "3000 Miles to Graceland" was by far the worst one. His career went down and he retired. He does pop up from time to time, but not for important roles.
Renee Zellweger's Surgery Completely Changed Her Appearance -- it is completely okay to change a feature of your face that you don't like but this was too much. She even denied having anything done when it was clear that she was no longer the same person.
The Scandalous Affair Arnold Schwarzenegger Had with His Child's Nanny -- Not only did he cheat on his wife, but he managed to get the nanny pregnant. His wife found out about that, and for some reason, she chose not to get a divorce. His reputation really suffered after that.
Taylor Lautner Can't Seem to Find His Movie Genre -- He had played everything from comedy to drama and nothing seems to fit. The role he had in Twilight was the best one since his action hero role failed, as well as his comedy.
Nicolas Cage Started Buying Really Weird Stuff -- He bought an island and multiple yachts. But then, things started to get weirder. Among the really strange things he bought were a pet octopus, an ancient dinosaur skull, an actual shark, and a house that was supposedly haunted. But it doesn't end there. He got a real crocodile, some albino cobras and a grave for himself. The grave has a giant pyramid on top of it. He ended up owing $6 million to the IRS
3. Finally, Tom Cruise has 2 movies coming out, choose the ones that you anticipate seeing?
Top Gun: Maverick -- 2020 (plot unknown)
Luna Park -- The plot revolves around a group of renegade employees who venture to the moon to steal an energy source. (year?)
10/14/2018
Careers
2371
52
By: PinkAnts
Comments