Results for - Police Asked to Leave Starbucks
2,576 voters participated in this survey
On the 4th of July, before their shift started, six police officers visited a Starbucks coffee shop in Tempe Arizona. After purchasing their drinks and while enjoying their coffee, a barista approached the officers and informed them that a customer complained because their presence made him or her feel unsafe. The employee then asked the men to either move to a location where they would be out of the customer's view or leave the premises.
1. Have you heard of this prior to this survey?
2. Do you drink Starbucks coffee?
3. Since the incident, the Tempe Officers Association has put out a "Dump Starbucks" image, encouraging law enforcement supporters to stop patronizing the business. If you regularly purchase from Starbucks, is this story likely to make you frequent their stores less, if not stop completely?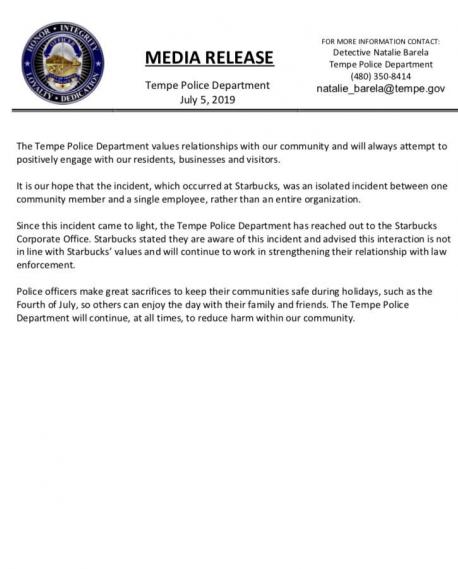 4. In a statement released on Twitter, the Tempe police department said they hoped the incident at Starbucks will be an "isolated incident between one community member and a single employee rather than an entire organization." Do you think this was an isolated incident and the result of a single employee's negative feelings toward the police?
5. Starbucks in response issued a statement saying they are trying to "better understand what took place and apologize for any misunderstandings or inappropriate behavior that may have taken place." Furthermore, "On behalf of Starbucks, I want to sincerely apologize to you all for the experience that six of your officers had in our store on July 4," Rossann Williams, Starbucks executive vice president and president of U.S. Retail said. The executive president also said she "will be in Tempe this evening and welcome the opportunity to meet with any of you in person to address concerns or questions." Do you think this apology by the company is good enough in response to the way the officers were treated on America's Independence Day?
07/11/2019
Careers
2576
117
By: bezdekbt
Comments