Results for - PBS's Arthur Shows Love Is Love!
2,292 voters participated in this survey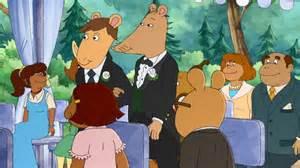 1. Last Monday, on the premiere episode of season 22 of beloved PBS children's show, Arthur, viewers learned something new about longtime character, Mr. Ratburn. In the May episode, Mr. Ratburn, best known as Arthur's wise third grade teacher, gets married to his new husband, an aardvark named Patrick — a union that Arthur and his friends Buster, Muffy and Francine discover when they crash the wedding. Their reaction: The third-graders are happy for their newlywed teacher, but there's one thing they are mortified by: his dancing. Did your children watch Arthur, and don't you think the show should be praised for teaching children that men can marry men and women can marry women?
My children/grandchildren watched Arthur
My children/grandchildren still watch Arthur
My children/grandchildren never watched Arthur
I think it's great for the show to show that all types of relationships and marriages exist and should be celebrated
I disapprove of showing these types of things on children's shows
This type of relationship is wrong, in my opinion and should not be on TV at all
I feel neutral on this subject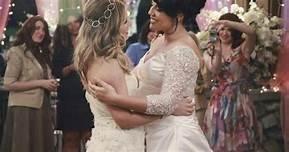 2. In 2015, same-sex marriage became legal across the country. So, regardless of where Arthur's fictional Elwood City actually is, Mr. Ratburn's marriage would be recognized. But TV shows have had same sex marriages long before it became legal. Did you see any of these weddings on TV shows?
Roseanne was, in fact, one of the earlier shows to tackle the topic. In a 1995 episode titled "December Bride," recurring character Leon (Martin Mull) marries his boyfriend (Fred Willard). The episode aired in a later time slot than Roseanne usually aired, due to, as an ABC spokeswoman stated, the "adult content."
Modern Family made great strides in giving America a gay couple that they could not just love, but one that they could relate to. Cam and Mitchell's relationship on Modern Family is loving, but not without its flaws. Their wedding, in 2014, which was built up to over the course of a year, was beautiful, touching and of course, not without a few mishaps. Cam and Mitchell showed that same-sex marriages were just as beautiful and complex as straight marriages.
ABC soap opera All My Children aired daytime television's first same-sex wedding in 2009, between Bianca (Eden Riegel) and Reese (Tamara Braun). Bianca was the daughter of Erica Kane (played by Susan Lucci)
In 2011, Grey's Anatomy, had two of their main characters wed. In the episode "White Wedding," Callie (Sara Ramirez) and Arizona (Jessica Capshaw) get hitched in a traditionally lavish ceremony, juxtaposing the utilitarian courthouse quickie between Meredith (Ellen Pompeo) and Derek (Patrick Dempsey) that takes place at the same time.
Kevin (Matthew Rhys) and Scotty (Luke Macfarlane) from ABC's Brothers & Sisters, wed in 2008. The "Prior Commitments" episode marked the first-ever same-sex ceremony on network TV between series regulars, and the first time a gay wedding was featured on a season finale.
The first same-sex wedding on U.S. television – network TV, at that – aired on the Fox sitcom Roc way back in 1991. The Season One episode "Can't Help Loving That Man," focuses on Roc's uncle (Shaft's Richard Roundtree) revealing he's gay, and the family's subsequent struggle to accept his lifestyle, ultimately culminating with Roc (Charles S. Dutton) hosting the ceremony in his home. The episode took home a GLAAD award that year for the positive portrayal.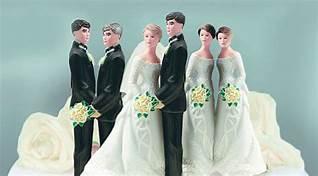 3. Now that it is legal in Canada and the U.S., and many other countries, you may have received an invitation to a sex same wedding. Have you been to one, and if not, would you go if you were invited?
I have been to a same sex wedding
I have not been to a same sex wedding
I have been invited to one, and plan to attend
I have been invited to one, but will not attend because I will not acknowledge this type of wedding
I have been invited to one, but will not attend because of other reasons, unrelated to the type of wedding it is
I would not go if invited
Not sure if I would go or not, if invited
I was married in a same sex wedding
05/17/2019
Love & Relationships
2292
71
By: Harriet56
Comments