Results for - Kids Just Wanna Have Fun(ds)
2,345 voters participated in this survey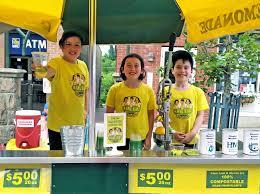 1. Lemonade stands are a summer staple, but Lila, Sadie and Violet Kane, 9-year-old triplets from Bracebridge, Ontario take it very, very seriously. This isn't your typical lemonade stand. There are no cardboard signs or Styrofoam cups. In fact, Kane Kids Company is a registered business. It has been inspected and it adheres to provincial health standards. There's even a complete business plan that includes the potential for expansion. Their lemonade is made with "love" and served in completely biodegradable cups and straws. The triplets purchase permits for special events and run their stand in local parks when they can. They also have to hire someone of age, as they can't drive and need supervision. And the girls are very proud that a portion of sales goes to help not-for-profit charities in the region. Did you have a lemonade stand when you were a child?
Yes, but not to this extent
Yes, and ran it like a business like this one
No, but my children do/did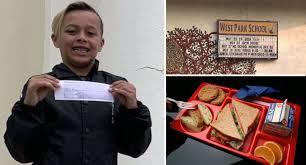 2. California student Ryan Kyote, 9, has long had a passion for helping others. Since the start of the school year last year, Kyote had been using his lunch card to buy meals for students who could not afford to eat. But at the end of the school year, the boy decided to take his kindness a step further. After hearing a news story about a 5-year-old in Indiana who was denied lunch because his family was unable to pay for the meal, Kyote decided to use six months of allowance he had saved up to pay off the school lunch debt for his third-grade classmates. His school will not refuse lunch to anyone, but the students who can not pay run up a tab, that they are responsible for at the end of the year. Kyote and his mother went into the school office, and paid off this debt, so these students did not have to worry about it. Has your child (or yourself) ever done something so altruistic at such a young age? "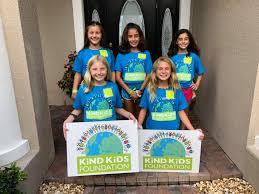 3. While some children spend their summer enjoying two months without classes, the children involved in the Kind Kids Foundation, used this summer as an opportunity to serve the community and brighten other children's days. The Winter Garden, Florida based foundation was started by Lauren Grauer, a fifth-grader at Whispering Oak Elementary, and a group of her friends who wanted to make a difference in the community. It's a service-learning organization of children and families who care about creating a kinder world by helping people, animals and the planet. Children are given opportunities to spread kindness through service — and they also get to have a say in what those opportunities should be. And it doesn't end when school resumes -- the children intend to carry it through twelve months a year. Do you think it is a good idea to teach children how to give to others at an early age?
No, let them just enjoy being children
Yes, but not until they are old enough to understand the concept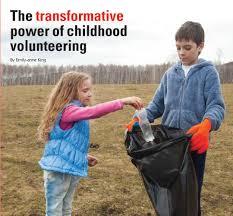 4. As a child, my parents got my sister and I involved with a community group that ran programs to teach us about giving to others. We planted flowers at a retirement home, helped clean up a local park, little things like this. I found I loved helping others, but my sister tried to get out of it as much as possible. I developed a real love for helping others, something that I carried with me into my adulthood. Do you think doing these types of things can help build character?
Depends on what the volunteering is, and the person involved
08/13/2019
Parenting
2345
29
By: Harriet56
Comments