Results for - Don't Worry Kids -- Santa Claus WILL Be Coming To Town
2,193 voters participated in this survey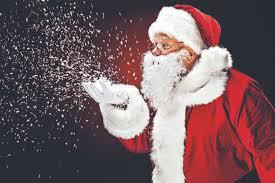 1. With less than a week to go until Christmas eve, the Ontario government has confirmed Santa Claus will be coming to town despite the pandemic. On Thursday, the Ontario government declared Santa Claus an "essential service" and will be allowed to deliver toys for Christmas. The proclamation, signed by Ontario's Lieutenant-Governor includes the elves' toy workshop as an essential manufacturing business and Santa's nine reindeer are considered essential transportation. Santa has long had a a parking exemption for landing on rooftops. If you have young children, have they expressed concern that Santa may not be able to visit, given the strict social distancing rules in place?
No, they have not said anything
Yes, they have expressed concern
No, they are too young to really think about this
My children do not believe in Santa
We do not celebrate Christmas
No young children/any children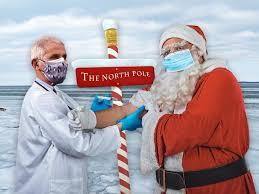 2. In the States, children can sleep better knowing that, according to Dr. Fauci, the top infectious disease specialist, Santa is "good to go". Dr. Fauci said he visited Santa himself to give him the COVID-19 vaccine, so he's able to deliver toys. After receiving questions from kids asking if Santa would still be making his rounds this year, Fauci decided to put children's minds at ease. Of course, Santa is the exception to the rule, as the Centers for Disease Control and Prevention has said that holiday gatherings this year should look a whole lot different so as to keep everyone safe. Do you like the idea that, despite the tremendous pressure and workload he has, Dr. Fauci took the time to help ease children's anxieties about Santa?
Yes, I think that it's quite admirable
No, I don't admire him for that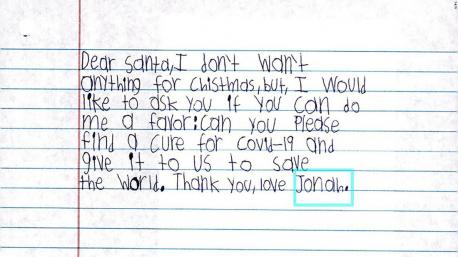 3. In their letters to Santa Claus, children are still asking for toys, clothes, Legos and video games. But in a year filled with illness and uncertainty, a review of letters addressed to the North Pole reveals the pandemic is weighing heavily on children. Some are imploring Santa to make coronavirus go away. Others are asking for masks for Christmas. Still others write about the challenges of going to school online or how their parents can't afford to buy presents this year because they lost their jobs. If you have young children, do they seem to be affected by the pandemic and the measures being taken to control it?
Do not have young children/any children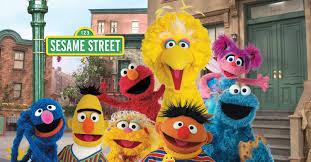 4. Mr. Rogers is known for saying look for the helpers in scary situations. Many of our best loved children's shows have addressed the pandemic in ways that children can relate to. Sesame Street, while no stranger to helping children address tough topics -- addiction, divorce, death and racism -- once again has taken on the task of "helpers in scary situations". Sesame Street just held their fifth town hall, this one to show families how to stay healthy during the holidays -- while still having fun -- during the Covid-19 pandemic. The regulars from the show all had their ways of coping. Big Bird was disappointed that he can't make his traditional birdseed fruit cake with his grandmother, but he says they'll be baking together over video chat instead. Zoe said she's making gifts for the heroes in her neighborhood, and she showed off a painted rock she made for the local fire department. Oscar the Grouch was just happy to have an excuse to stay in his garbage can, away from people. The special also included children asking special guest Dr. Fauci some questions that concerned them, such as "when can I hug my Grandma again?". Do you think these types of shows can help children deal with what we as adults find so difficult to deal with?
It's not up to a TV show to do this
12/23/2020
Parenting
2193
34
By: Harriet56
Comments