Results for - Mommy and baby. Occupied.
1,306 voters participated in this survey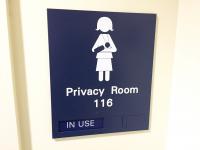 1. Have you ever seen a sign like this, or one similar in a public place?
2. Have you ever gone into a room such as this?
3. If you saw a man and baby/child coming out of a room with this type of sign on it, would you be offended, or would it make you wonder why?
I'd definitely be offended
I'd wonder why he was in there
Wouldn't think anything was wrong with this at all
4. Do you agree with having "mommy and baby" rooms in public places?
07/13/2015
Parenting
1306
33
By: Brendaroo
Earn Rewards Live
Comments