Results for - Do you judge a book by its cover?
1,782 voters participated in this survey
1. Have you ever judged someone without getting to know them or their talents? (Judge a book by its cover?)
2. Do you know who Thomas Edison is?
I've heard the name but don't know much about him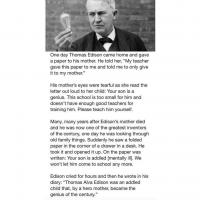 3. Very intriguing story....Do you think he would have gone on to achieve all that he did if his mom would have read what the teacher really wrote? (Click on image to enlarge)
4. Have you ever withheld information from someone or told them a white lie if you knew it would change the coarse of there lives like Edison's mom did?
5. Would you do this for your child?
No!!....Always tell the truth regardless
Maybe...Depends on the situation/kid
11/11/2015
Parenting
1782
42
By: bsoldiergirl
Comments