Results for - Millwall Football Fan Shows His Love For The Team
2,675 voters participated in this survey
One Millwall fan football fan has gone very far to show his support for the team. Lions fan Mike Bloomfield decided to name his newborn son "Bermondsey Millwall Den." This is the district where the club is based, its name and its ground. Bloomfield noted that after confirming the name of his newborn child with registration, he was nervous since he did not approve the name with his wife.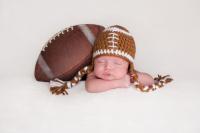 1. Are you familiar with this news story?
Yes, I am familiar with this news story
No, I am not familiar with this news story
2. Are you shocked that the father chose to name his newborn child after a football team?
3. Do you think the father made a bad decision to name his son after a football?
4. Would you consider naming your child after something you loved (e.g. TV show, sports team)?
5. Do you know someone with an unusual name?
No, not from what I am aware
11/24/2015
Parenting
2675
49
By: Tellwut
Comments