Results for - The fine line between "doing for" and "chores"
1,992 voters participated in this survey
Think about kids from ages 10-18, thanks!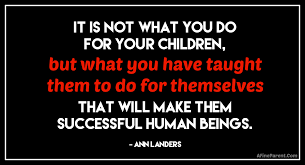 1. Growing up, I lived with my Grandparents, my Mom, my Mom and Stepdad, and my Stepdad. I only had chores with my Mom, my Stepdad and Grandma waited on me (and my 2 brothers) hand and foot. I feel the message I received was that it is a parent's duty not only to serve but to teach. So, when I had my kids I mostly waited on them, they had a bit of chores, and I taught them how to do everything around the house for when they would be on their own. (Drove my ex husband nuts.) Today, my brothers and I are hard workers, have a good work ethic, independent, etc; same goes for my kids. Do you believe that you can do about everything, as I did for my kids, and they'll be successful living on their own, when married, and a parent?
Yes, you can do more for them in proportion to what they do, and they'll be responsible
I think it has to be balanced at some point in time
No, kids must do more chores in proportion to what the parents do for them
2. When my daughter was in choir there were times when she would be gone for a couple of days to a week for competition. I did all of what she needed to do for her, same for when my son was involved in drama or on vacay with his Dad. Would you do the same?
I would do everything that needed to be done for them, important or not
I would only take care of necessities (cat box, change fish water, laundry etc) but not things that could wait like vacuuming
3. What were the rules in your house growing up in terms of the work load?
The adults mostly did everything
When I was older I did more than what the adults did for me
4. If you have children, are you raising them the same way that you were raised in terms of what you do for them and what they do?
The same for the most part
I do things a bit different
I do everything different
5. My ex and I had huge cultural issues, who knew it would be like that? Growing up he saw the women do everything while the men just tended to their careers. I ran an equal opportunity household (meaning if your hands and legs aren't broken, then you need to contribute). He felt that my kids should've been doing more for themselves because it's what he saw growing up. If you had a split was it due to cultural differences?
03/19/2016
Parenting
1992
28
By: ptajuggalette
Comments