Tellwut 2.0- Most Frequently Asked Questions

It has been over 4 months since the launch of Tellwut 2.0, and we hope you're enjoying the updated site. We have more in store, but for now, we've written a blog about frequently asked questions on Tellwut and how to use the site. These questions are based on daily support tickets, and if you have other inquiries, you can check our FAQ section here or contact us at support@tellwut.com. Stay tuned for future blog posts on external surveys, new features, and more!
How do I redeem my points?
To see our available rewards and redeem points, please click Rewards in the left hand sidebar, and that will open two options: Rewards, where you can redeem and Orders, where you can see your past orders. Click on Rewards to redeem your points. If you are on a mobile device, to find the sidebar, click the 3 lines in the upper left hand corner.
How do I submit the member poll I created for review?
Once you have finished creating your member poll, please click Preview in the upper right hand corner. When you do that, it will take you to a preview of your survey so you can see what it looks like when it's live and make any changes needed. Once you're ready to publish, the Preview button in the upper right hand corner should now say Publish. Click that, and your survey will be sent to us for review. Please note that due to the large volume of pending surveys, it may take up to 7 business days for us to review your survey. If it's time sensitive, please contact us at support@tellwut.com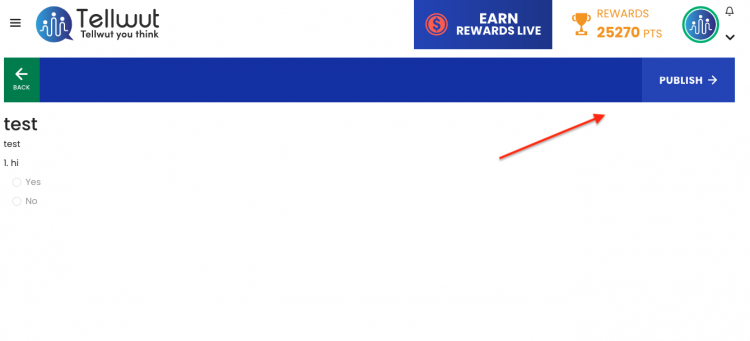 Why am I unable to take member polls?
In order to have access to member polls, members must complete an external survey every 14 days. After 14 days have passed, you will see the below message indicating that it's time to complete another survey. Once you do so, your account will be automatically re-opened for you to participate in all member polls again. If you're having trouble completing surveys despite your efforts, please reach out to us, and we'll investigate the matter for you.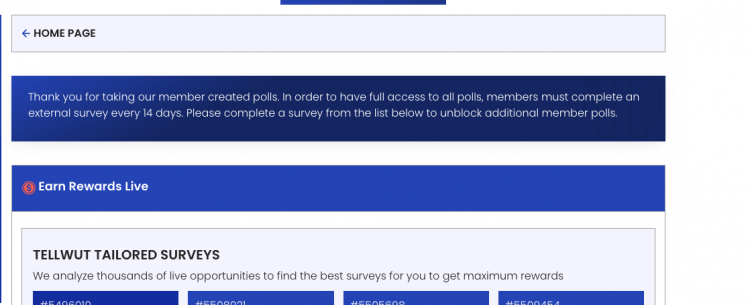 How do I find the member polls?
Please complete the survey of the day and then click Next Poll on the right hand side above the survey and you will be brought to the next open poll. You can also click Most Recent on the left hand sidebar or Tellwut Social to see the list of polls.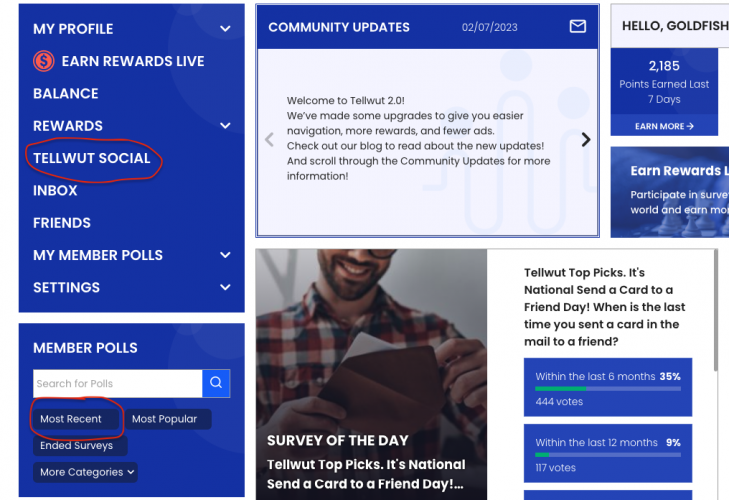 You have a glitch or bug on your site. What do I do?
Our comment section is not moderated, so if you notice a big issue, please contact us directly at support@tellwut.com instead of leaving a comment as we won't see it.
Someone friend requested me and I can't find the request.
To see any pending friend requests, please click Friends on the left hand side bar. You'll be able to see your friends list, your sent friend requests and any pending friend requests you have not responded to yet.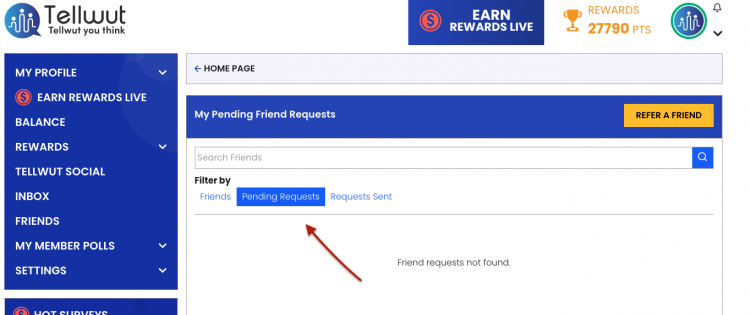 How do I refer a friend?
Our refer a friend page here offers all the details on how to refer a friend
You can either create your own link with your username like mentioned in the page and then copy and paste it to your friends/family, or yo can click Refer Friends in the yellow box at the top of the page and it will create the link for you. You can then again copy and paste it to anyone you want via email, messenger, text or any other way!
What's Tellwut Social?
 Tellwut Social is what we have called the area where you can interact with other members. When you click Tellwut Social, you will see your friends list, the survey of the day, most recent member polls and more! We are working on building even more features for this area.
I accidentally blocked someone, how do I unblock them?
Please click Settings and then Blocked Members. There you will see a list of members you have blocked and you can unblock them from there as well.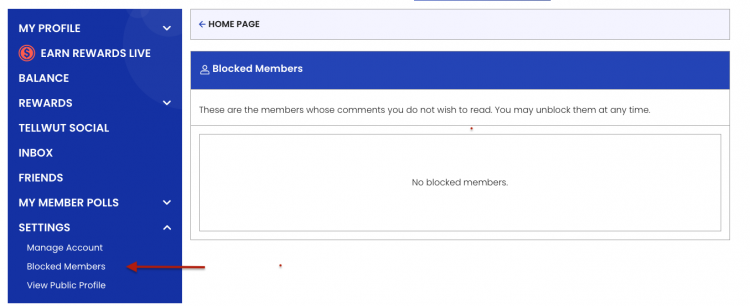 I don't want an e-card, how can I redeem for a physical card?
Please click on Physical when you go to our rewards section and you will only see physical cards that will be sent via mail.