Tellwut Contact Us Form Guide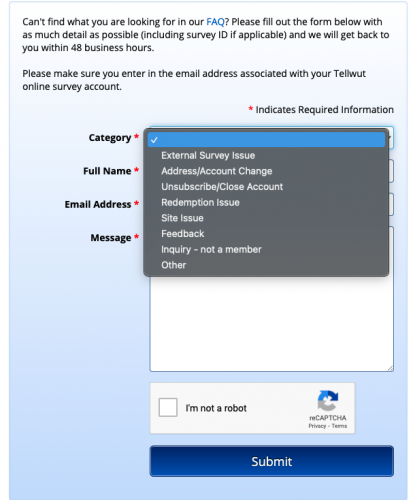 You may have noticed we have updated our Contact Us form with categories. This is to better organize the emails we receive and make sure we are replying to urgent matters quickly. Below, we will show the different category options and what they are used for. Please try to follow this guide as much as possible so we can ensure a quick and effective support experience for members. When filling out the Contact Us form, please make sure you are using your email address that we have on file, and please make sure it is spelled correctly! The Contact Us form can be found on the left hand side of our page if you are using a deskptop/laptop. If you are using mobile, please click the menu at the top right hand corner which will drop down with different options including the Contact Us form.
1) External Survey Issue
The first new category we have is External Survey Issue. Please use this category each time you encounter an issue with an external survey including if you didn't receive points, even if you do not have the survey ID number. If you do have the survey ID number, you will see when you select External Survey that a second box will appear where you can insert that number. Please only use this category for external survey problems.
2) Address/Account change
Please use this category if you need to make any changes to your address or account, including email address and username.
3) Unsubscribe/Close account
Please use this category if you would like to unsubscribe from Tellwut emails or close your account. Please note you also have the option to unsubscribe from emails on your Settings page when you are logged in.
4) Redemption Issue
This category is used if you have an issue with your redemption/reward, such as an Amazon.com reward. Please note this category should be used only for gift card issues, not for rewards for an external survey.
5) Site Issue
This category should be used if you encouter any technical issues with our site. However if you experience a technical issue with an external survey, please use the External Survey category when writing in. This category should be used only for Tellwut issues.
6) Feedback
If you have any feedback for us, we'd love to hear it! You can use this category to contact us about any feedback you may have about our site or any content on our site.
7) Inquiry-Not a Member
This category can be used for those who are not yet Tellwut members but may have some questions about our site.
8) Other
This category can be used for any issues that do not fit into any of the above categories. However we do ask that if your issue does match any above caregories to please use that for better organization of the support emails.
Your questions may also be answered by checking our our FAQ page here. If you have any questions about when a certain reward should arrive, please check the corresponding reward page here which will give the estimated delivery time of the reward. If it doesn't arrive within that time frame, then please contact us using the Redemption Issue category.