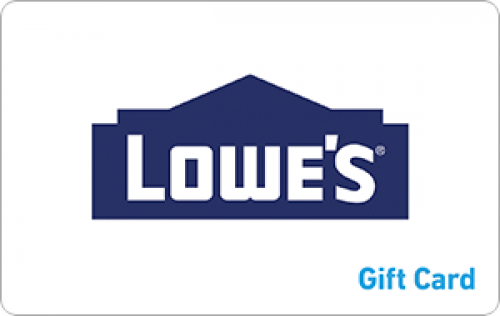 Product Description, Terms and Conditions is provided by product owner.
Description
E-cards are not sent automatically upon redemption. Orders will be fulfilled within 1-7 business days of redemption. Once the order is fulfilled, you will receive a confirmation email and then the reward within 30 minutes. Please check your junk mail or contact support@tellwut.com if you did not receive your order. Cards are non refundable once the order is processed. E-cards are sent directly from our supplier Your Digital Reward.

Lowe's offers everything from power tools and appliances to lighting and home décor. The Lowe's eGift Card can help start any home project large or small. 
---
Product Terms & Conditions
This is not a credit/debit card and has no implied warranties. This Gift Card is not redeemable for cash unless required by law and cannot be used to make payments on any charge account. Lowe's® reserves the right to deactivate or reject any Gift Card issued or procured, directly or indirectly, in connection with fraudulent actions, unless prohibited by law. Lost or stolen Gift Cards can only be replaced upon presentation of original sales receipt for any remaining balance. It will be void if altered or defaced. To check your Lowe's® Gift Card balance, visit Lowes.com/GiftCards, call 1-800-560-7172 or see the Customer Service Desk in any Lowe's® store. ©2018 Lowe's, LOWE'S and the Gable Mansard Design are registered trademarks of LF, LLC.