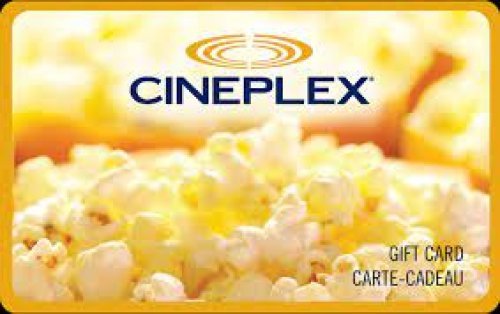 Product Description, Terms and Conditions is provided by product owner.
Description
E-cards are not sent automatically upon redemption. Orders will be fulfilled within 1-7 business days of redemption. Once the order is fulfilled, you will receive a confirmation email and then the reward within 30 minutes. Please check your junk mail or contact support@tellwut.com if you did not receive your order. Cards are non refundable once the order is processed. E-cards are sent directly from our supplier Your Digital Reward.

Cineplex Entertainment is one of Canada's leading entertainment companies and operates one of the most modern and fully digitized motion picture theatre circuits in the world.  As the largest exhibitor of 3D® and IMAX® projections and exclusively providing UltraAVX™ guests are sure to discover the movie experience they are looking for.  Gift cards are useable both online and in theatres making it easy to enjoy a night out or from the comfort of your home.
---
Product Terms & Conditions
Cineplex Entertainment LP ("Cineplex") Gift Cards ("Cards") may be used towards the purchase of admissions, concessions and merchandise at any Cineplex theatre, or at cineplex.com.  Cards cannot be redeemed or exchanged for cash or other cards unless required by law.  Cards are reloadable.  Lost/stolen Cards will not be replaced. Damaged Card may be replaced by Cineplex in its sole discretion.  SCENE® points are not issued on the sale of Cards.  Receipt and/or use of this Card constitutes acceptance of these terms and conditions. Issued by Cineplex Entertainment. Treat this as cash. Balances available at Cineplex.com or 1-800-544-7573.
®/TM Cineplex Entertainment LP or used under license.

Les cartes-cadeaux (les « cartes-cadeaux ») Cineplex Divertissement LP peuvent être utilisées comme paiement applicable à l'achat de billets d'entrée, de produits alimentaires et de marchandise dans tout cinéma Cineplex ou à cineplex.com. Les cartes-cadeaux ne peuvent pas être échangées contre de l'argent ou d'autres cartes à moins que la loi ne l'exige. Les cartes-cadeaux peuvent être rechargées dans tout cinéma Cineplex. Les cartes-cadeaux perdues ou volées ne seront pas remplacées. Une carte endommagée peut être remplacée par Cineplex à sa discrétion exclusive. L'achat de cartes-cadeaux n'est pas valable pour l'obtention de points SCÈNEMD. L'obtention ou l'utilisation de cette carte-cadeau constitue l'acceptation des présentes conditions. Émise par Cineplex Divertissement. Veuillez l'utiliser comme de l'argent comptant. Le solde des cartes-cadeaux est disponible à Cineplex.com ou au 1-800-544-7573. MD/MC Cineplex Entertainment LP ou utilisation sous licence.