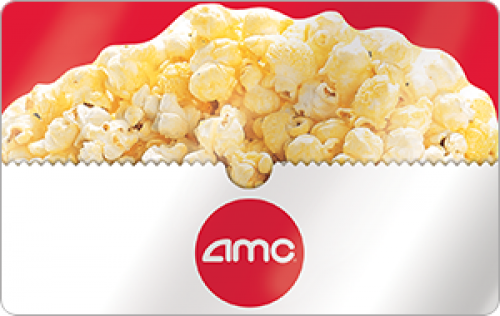 Product Description, Terms and Conditions is provided by product owner.
Description
E-cards are not sent automatically upon redemption. Orders will be fulfilled within 2-7 days of redemption. Once the order is fulfilled, you will receive a confirmation email and then the reward within 30 minutes. Please check your junk mail or contact support@tellwut.com if you did not receive your order. Cards are non refundable once the order is processed. E-cards are sent directly from our supplier Your Digital Reward.

AMC is the largest movie exhibition company in the U.S., in Europe and throughout the world with approximately 1,000 theatres and 11,000 screens across the globe. AMC has propelled innovation in the exhibition industry by: deploying more plush power-recliner seats; delivering enhanced food and beverage choices; generating greater guest engagement through its loyalty program, web site and smart phone apps; offering premium large format experiences and playing a wide variety of content including the latest Hollywood releases and independent programming. AMC operates among the most productive theatres in the United States' top markets, having the #1 or #2 market share positions in 22 of the 25 largest metropolitan areas of the United States, including the top three markets (NY, LA, Chicago). Through its Odeon subsidiary AMC operates in 14 European countries and is the # 1 theatre chain in UK & Ireland, Italy, Spain, Sweden, Finland and the Baltic States. www.amctheatres.com.
---
Product Terms & Conditions
Card Will Not Function 5 Years After Activation
Funds Remain Available – Call 1.800.255.0311 for Free Replacement Card
Usable up to balance only to buy goods or services online at amctheatres.com and at any box office or concession register at AMC Theatres® locations in the U.S. Card will not function five years after card activation; online redemptions and balance inquiries will be unavailable. Funds remain available. Not usable to purchase gift cards. Not redeemable for cash unless required by law. Not a credit or debit card. Safeguard the card. It will not be replaced or replenished if used without authorization. If lost or stolen, replacement card with remaining value requires original proof of purchase. AMC Card Processing Services, Inc. ("AMC CPS, Inc.") is the card issuer and sole obligor to card owner. AMC CPS, Inc. may delegate its issuer obligations to an assignee, without recourse. If delegated, the assignee, and not AMC CPS, Inc., will be sole obligor to card owner. Purchase, use or acceptance of card constitutes acceptance of these terms. For balance or other customer service inquiries, including replacement of card, and AMC Theatre brands, visit any AMC theatre, log on to amctheatres.com or call 1.800.255.0311.