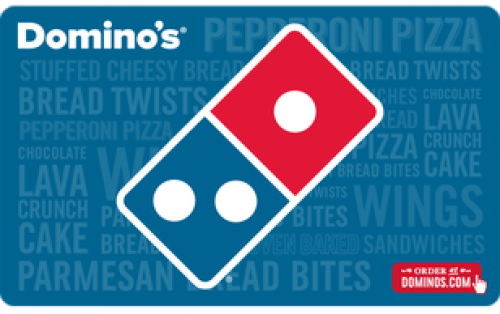 Product Description, Terms and Conditions is provided by product owner.
Description
E-cards are not sent automatically upon redemption. Orders will be fulfilled within 1-7 business days of redemption. Once the order is fulfilled, you will receive a confirmation email and then the reward within 30 minutes. Please check your junk mail or contact support@tellwut.com if you did not receive your order. Cards are non refundable once the order is processed. E-cards are sent directly from our supplier Your Digital Reward.

The gift of pizza and so much more! Enjoy your favorite Pizza, Traditional Hand Tossed or Handmade Pan or a delicious variety of Specialty pizzas. Want more than pizza? Try one of three varieties of Stuffed Cheesy Bread, Oven Baked Sandwiches, Parmesan Bread Bites, or Chocolate Lava Crunch Cakes and so much more. See our entire menu, locate the Domino's near you and Order online at dominos.com.
Perfect for someone who loves Pizza, Wings, Oven-Baked Sandwiches or…you decide.
---
Product Terms & Conditions
Features:
• Good towards purchase of pizza, pasta or anything else on the menu
• Valid at over 5,000 Domino's U.S. locations
• Redeem at dominos.com by entering the Gift Card code/PIN when checking out; can also be used
over the phone by providing the Gift Card code/PIN to the CSR or bring the Gift Card for use in-store.

Usable up to balance only to buy goods or services at participating Domino's stores in the U.S. Not redeemable to purchase gift cards. Not redeemable for cash except as required by law. Not a credit or debit card. Safeguard the card. It will not be replaced or replenished if lost, stolen or used without authorization. CARDCO CXXV, Inc. is the card issuer and sole obligor to card owner. CARDCO may delegate its issuer obligations to an assignee, without recourse. If delegated, the assignee, and not CARDCO, will be sole obligor to card owner. Resale by any unlicensed vendor or through any unauthorized channels such as online auctions is prohibited. Purchase, use or acceptance of card constitutes acceptance of these terms. For balance inquiries go to www.dominos.com or call 877-250-2278 and for other inquiries visit www.dominos.com.

©Domino's IP Holder LLC. Domino's®, Domino's Pizza® and the modular logo are registered trademarks of Domino's IP Holder LLC.