$25 Cineplex Gift Card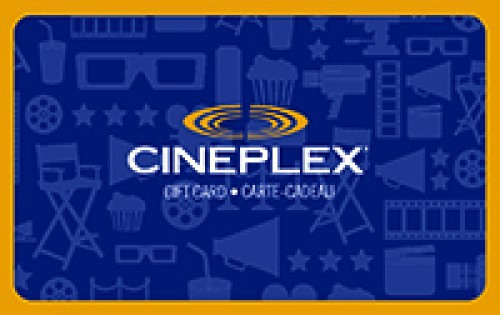 Description
$25 Cineplex Gift Card.*

Availability: Canadian panel members

Cards are sent via USPS from our supplier in the United States to the mailing address associated with your account and will be fulfilled within fifteen days of redemption. Shipping times will vary depending on your location, please allow 3-4 weeks for delivery. Cards are non refundable once the order is processed.

The Cineplex e-Gift cards are sent via e-mail from Virtual Incentives to the e-mail address associated with your account and will be fulfilled within fifteen days of redemption.E-cards are not sent automatically upon redemption. E-cards should arrive within 24 hours of the confirmation email. Once processed, e-cards are non refundable.


Love movies? Who doesn't! Share that love with family and friends with a Cineplex Gift Card. With over 125 theatres housing more than 1,600 screens, Cineplex Entertainment can be found across Canada. As the largest exhibitor of 3D and IMAX projections and exclusively providing UltraAVX™ everyone is sure to find what they are looking for at their next movie experience. Cineplex Gift Cards are suitable for any occasion and useable both online and in theatres! Cineplex Gift Cards are whatever you make them. Cineplex Entertainment Gift Cards are valid for use online at store.cineplex.com or at any Cineplex Entertainment location across Canada such as Cinema City, Famous Players, Galaxy, Scotiabank and SilverCity. Enjoy the show!

TERMS & CONDITIONS:

Cineplex Entertainment LP ("Cineplex") Gift Cards ("Cards") may be used towards the purchase of admissions, concessions and merchandise at any Cineplex theatre, or at Cineplex.com. Cards cannot be redeemed or exchanged for cash or other cards unless required by law. Cards are reloadable. Lost/stolen Cards will not be replaced. Damaged Card may be replaced by Cineplex in its sole discretion. SCENE® points are not issued on the sale of Cards. Receipt and/or use of this Card constitutes acceptance of these terms and conditions. Balances available at Cineplex.com or 1-800-544-7573. ™® Cineplex Entertainment LP or used under license.

Les cartes-cadeaux (les <>) Cineplex Divertissement LP peuvent être utilisées comme paiement applicable a l'achat de billets d'entrée, de produits alimentaires et de marchandise dans tout cinéma Cineplex ou a Cineplex.com. Les carte-cadeaux ne peuvent pas être échangées contre de l'argent ou d'autres cartes à moins que la loi ne l'exige. Les carte-cadeaux peuvent être recharges dans tout cinéma Cineplex. Les cartes-cadeaux perdues ou volées ne seront pas remplacées. Une carte endommagée peut être remplacée per Cineplex à sa discrétion exclusive. L'achat de carte-cadeaux n'est pas valable pour l'obtention de points SCÈNE®. L'obtention ou l'utilisation de cette carte-cadeau constitue l'acceptation des présentes conditions. Le solde des cartes-cadeaux est disponible à Cineplex.com ou au 1-800-544-7573. MCMDCineplex Divertissement LP ou utilisation sous licence.