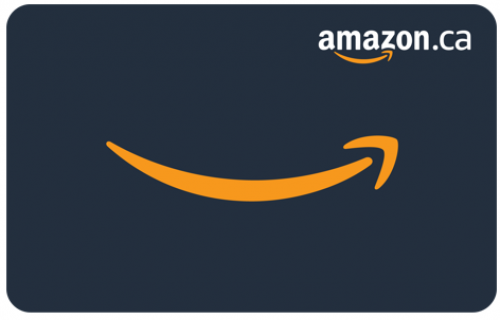 Product Description, Terms and Conditions is provided by product owner.
Description
E-cards are not sent automatically upon redemption. Orders will be fulfilled within 2-7 days of redemption. Once the order is fulfilled, you will receive a confirmation email and then the reward within 30 minutes. Please check your junk mail or contact support@tellwut.com if you did not receive your order. Cards are non refundable once the order is processed. E-cards are sent directly from our supplier Your Digital Reward.

• Use your Amazon.ca Gift Certificate towards Books, Electronics, Music, and more. The Amazon.ca website is the place to find and discover almost anything you want to buy online at a great price.

• Utilisez votre chèque-cadeau Amazon.ca pour les livres, l'électronique, la musique et plus encore. Le site Amazon.ca est l'endroit où trouver et découvrir presque tout ce que vous voulez acheter en ligne à un prix avantageux.
---
Product Terms & Conditions
Amazon.ca Gift Certificates ("GCs") sold by NeoCurrency, an authorized and independent reseller of Amazon.ca Gift Certificates. GCs are redeemable only for eligible products on Amazon.ca. Return policies for products are available on Amazon.ca. Except as required by law, GCs cannot be reloaded, resold, transferred for value, redeemed for cash or applied to any other account. To view a GC balance or for more information about your GC, visit "Your Account" on Amazon.ca or contact us at www.amazon.ca/contact-us. GCs cannot be used to purchase other GCs. Amazon is not responsible if a GC is lost, stolen, destroyed or used without permission. For complete terms and conditions, see www.amazon.ca/gc-legal. GCs are issued by Amazon.com.ca, Inc., a Delaware corporation. All Amazon ®, ™ & © are IP of Amazon.com, Inc. or its affiliates. No expiration date or service fees. If you have questions about redeeming your gift certificate, please visit www.amazon.ca/gc-redeem.

Modalités et conditions

*Chèques-cadeaux Amazon.ca ("CC") vendus par NeoCurrency, revendeur autorisé et indépendant de Chèques-cadeaux Amazon.ca. Les CC sont utilisables seulement sur les produits éligibles vendus sur Amazon.ca. Les politiques de retour des produits sont disponibles sur Amazon.ca. Excepté dans les cas prévus par la loi, les CC ne peuvent pas être rechargés, revendus, cédés en échange d'une contrepartie, échangés contre de l'argent liquide ou appliqués à un autre compte. Pour voir votre de solde de CC, ou pour toute autre information sur votre CC, consultez la page « Votre Compte » sur Amazon.ca ou contactez-nous sur www.amazon.ca/contact-us. Les CC ne peuvent pas être utilisés pour acheter d'autres CC. Amazon n'est pas responsable si un CC est perdu, volé, détruit ou utilisé sans votre permission. Pour voir les Modalités complètes, consultez la page www.amazon.ca/gc-legal. Les CC sont émis par Amazon.com.ca, Inc., société du Delaware. Tous les ®, TM et © Amazon sont la propriété intellectuelle d'Amazon.com, Inc. ou ses filiales. Pas de date d'expiration ou de frais. Si vous avez des questions sur l'utilisation de votre chèque-cadeau, veuillez consulter la page www.amazon.ca/gc-redeem.