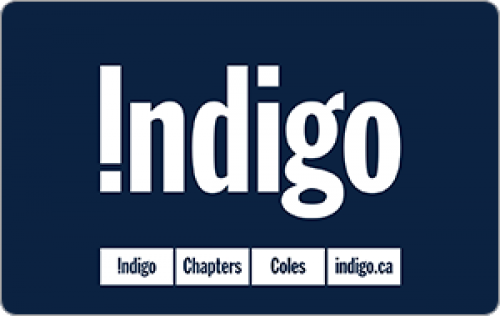 Product Description, Terms and Conditions is provided by product owner.
Description
E-cards are not sent automatically upon redemption. Orders will be fulfilled within 1-7 business days of redemption. Once the order is fulfilled, you will receive a confirmation email and then the reward within 30 minutes. Please check your junk mail or contact support@tellwut.com if you did not receive your order. Cards are non refundable once the order is processed. E-cards are sent directly from our supplier Your Digital Reward.

Indigo Books & Music Inc. is a Canadian company and the largest book retailer in Canada, operating bookstores in all provinces under the names Indigo Books Music & more, Chapters, Indigospirit, Coles and Smithbooks. Indigo also operates www.chapters.indigo.ca, an online retailer of books, gifts, music, and DVDs. With its cultural department store approach, Indigo has everything to fuel the passions and interests of booklovers across the nation: over a million titles, a great Kids' offering with edutainment product, beautiful items for your home and gifts that touch the heart, mind and soul. For ultimate convenience, Gift cards can be used at all stores and online. 
---
Product Terms & Conditions
This gift card can be used to purchase merchandise or services in Canada at Indigo, Chapters, Indigospirit, Coles and online at Indigo.ca. Purchases are deducted from the card balance. Refunds on items purchased with this card are re-applied to the card. Cannot be used to purchase gift cards. This card cannot be refunded, re-sold, replaced if lost/stolen, redeemed outside Canada and is not redeemable for cash except as required by law. This card has no expiration date. Indigo reserves the right to deactivate or reject this card if obtained illegally. By using this card, you accept these terms and conditions. For your card's current balance, view your last receipt or visit www.indigo.ca/giftcards.