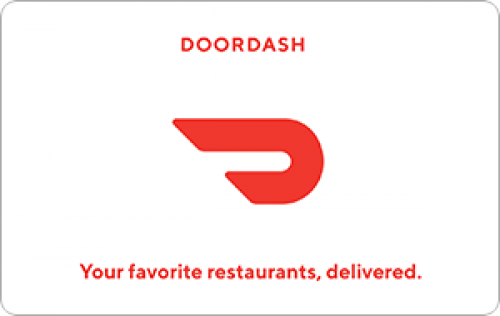 Product Description, Terms and Conditions is provided by product owner.
Description
E-cards are not sent automatically upon redemption. Orders will be fulfilled within 1-7 business days of redemption. Once the order is fulfilled, you will receive a confirmation email and then the reward within 30 minutes. Please check your junk mail or contact support@tellwut.com if you did not receive your order. Cards are non refundable once the order is processed. E-cards are sent directly from our supplier Your Digital Reward.

Give the gift of food delivery with a DoorDash gift card. The DoorDash app connects your favourite people with the foods they love from more than 310,000 local and national restaurants across 4,000 cities in the US & Canada. Gift food delivery for easier evenings, happier days, and more time to enjoy the people and things they love.
---
Product Terms & Conditions
Your Gift Card is redeemable towards eligible orders placed on www.doordash.com or in the DoorDash App in Canada. Gift Cards are made available and provided by DoorDash, Inc. Gift Cards cannot be used to pay a credit account and are not redeemable for cash except when required by applicable law. Purchases with Gift Card are subject to DoorDash standard refund policy, and any refund amounts will be credited back to the DoorDash consumer account. For more information on the Gift Card Terms and Conditions, please visit https://help.doordash.com/consumers/s/article/DoorDash-Gift-Cards-Terms?language=fr_CA#english.