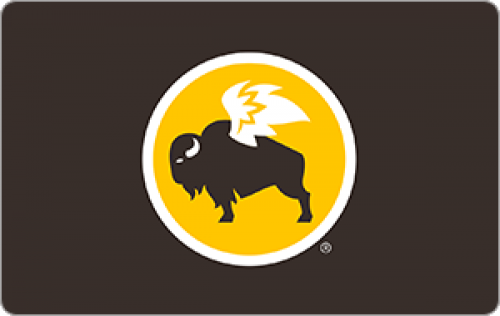 Product Description, Terms and Conditions is provided by product owner.
Description
E-cards are not sent automatically upon redemption. Orders will be fulfilled within 1-7 business days of redemption. Once the order is fulfilled, you will receive a confirmation email and then the reward within 30 minutes. Please check your junk mail or contact support@tellwut.com if you did not receive your order. Cards are non refundable once the order is processed. E-cards are sent directly from our supplier Your Digital Reward.


FOR DINE-IN USE:
1. Print this page or have your eGift Card accessible on your mobile device
2. Bring it to any Buffalo Wild Wings in the U.S. and present to your server at the time of payment
FOR ONLINE PICKUP ORDERS:
1. Where available, select PICKUP and PAY IN STORE
2. Print this page or have your eGift Card accessible on your mobile device
3. Present your eGift Card upon food pickup
Your eGift Card cannot be applied to delivery orders. Protect this eGift card like cash. Valid in the U.S. only.
Any value remaining on this eGift card can be used on future visits.
REDEMPTION INSTRUCTIONS FOR SERVER:
· On the payment screen on the POS select "Gift Card" and then "Keyed Redeem"
When prompted on the payment device, carefully key in the 16-digit eGift card number and 8-digit PIN (if present) 
---
Product Terms & Conditions
This Card never expires and there are no fees. To get your Card balance, visit buffalowildwings.com. Purchase, use or acceptance of this Card constitutes acceptance of these Terms. This Card is redeemable up to the balance for food, product, beverage or alcohol (where permitted by law) at participating Buffalo Wild Wings locations in the U.S. This Card is not redeemable for cash or refundable unless required by law. It is not reloadable or usable to purchase gift cards. Blazin Wings, Inc. is the Card issuer and sole obligor to Card owner, and may delegate its issuer obligations to an assignee, without recourse. If delegated, the assignee, and not Blazin Wings, Inc. will be sole obligor to Card owner. This Card may not be resold without authorization; Blazin Wings, Inc. has the right to deactivate or reject Cards sold by unauthorized sellers or Cards involved in fraudulent activity. This Card is not a debit or credit card. It will not be replaced if lost, stolen, damaged or used without authorization. Other Terms apply, visit: buffalowildwings.com. TM & © 2021 Buffalo Wild Wings, Inc.