$25 Cheesecake Factory e-Gift Card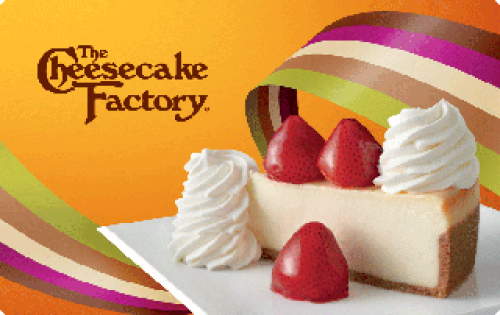 Product Description, Terms and Conditions is provided by product owner.
---
Description
E-cards are not sent automatically upon redemption. Orders will be fulfilled within 2-7 days of redemption. Once the order is fulfilled, you will receive a confirmation email and then the reward within 30 minutes. Please check your junk mail or contact support@tellwut.com if you did not receive your order. Cards are non refundable once the order is processed. E-cards are sent directly from our supplier Your Digital Reward.
Walk through our front doors and you'll know you're in for something special. Featuring imported limestone floors and custom wood columns, hand painted murals and modern lighting, the distinctive and contemporary décor is just the beginning… The Cheesecake Factory is a unique, upscale casual restaurant offering more than 250 menu selections including nearly 50 lower calorie SkinnyLicious® dishes and a "Super" Foods section – handmade, in-house with fresh ingredients – and more than 50 signature cheesecakes and desserts.
---
Product Terms & Conditions
The Cheesecake Factory® electronic gift card ("eCard") can be used at any of The Cheesecake Factory® restaurants in the United States of America, including the Commonwealth of Puerto Rico.
• Please safeguard this eCard as it cannot be replaced if lost or stolen • The eCard does not expire or accrue fees. • Except where required by law, this eCard cannot be refunded or redeemed for cash • eCard balances cannot be transferred onto or used to purchase other eCards or gift cards • Where prohibited by law, you cannot use this eCard to pay for alcoholic beverages • Use of this eCard constitutes acceptance of these terms and conditions • eCard only valid in the United States of America, including the Commonwealth of Puerto Rico • This eCard is subject to all state and federal laws and regulations, which may change from time to time. Therefore the terms and conditions affecting this eCard are subject to change without notice.
To find The Cheesecake Factory® restaurant nearest you or check the balance on your eCard, please visit us at thecheesecakefactory.com. You may also check your eCard balance by calling 1-888-891-2429.
©2018 TCF Co LLC. All Rights Reserved. Issued by C.F.I. Promotions CA Co. LLC