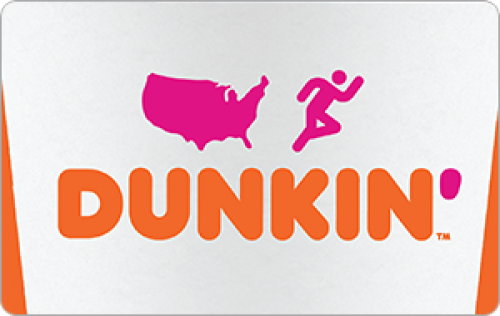 Product Description, Terms and Conditions is provided by product owner.
Description
E-cards are not sent automatically upon redemption. Orders will be fulfilled within 1-7 business days of redemption. Once the order is fulfilled, you will receive a confirmation email and then the reward within 30 minutes. Please check your junk mail or contact support@tellwut.com if you did not receive your order. Cards are non refundable once the order is processed. E-cards are sent directly from our supplier Your Digital Reward.


The reloadable Dunkin' Gift Card is a convenient way to pay for all your favorites. It's accepted at participating Dunkin' locations.
---
Product Terms & Conditions
Card good only toward purchase of Dunkin' products at participating US locations. No expiration date or management fees. The purchase and/or reload of a Dunkin' Card with another Dunkin' Card is prohibited. Card value may not be redeemed for cash, check or credit, unless required by law. Use of card constitutes acceptance of these terms. We are not responsible for lost or stolen cards unless registered online. Replacement card for lost or stolen registered cards issued for remaining balance reflected in our records at time reported lost or stolen. This card may not be resold by any unauthorized vendors. Unauthorized resale or attempted resale is grounds for cancellation. Cards obtained through unauthorized channels will be void. Card issued by SVC Service II LLC. Visit DunkinDonuts.com or call 1-800-447-0013 to check the balance on the card or for customer service (please have card number ready). ©2021 DD IP Holder LLC.