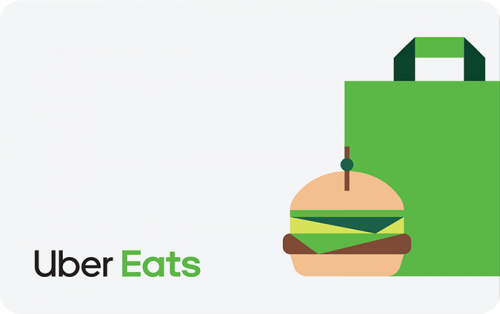 Product Description, Terms and Conditions is provided by product owner.
Description
E-cards are not sent automatically upon redemption. Orders will be fulfilled within 2-7 days of redemption. Once the order is fulfilled, you will receive a confirmation email and then the reward within 30 minutes. Please check your junk mail or contact support@tellwut.com if you did not receive your order. Cards are non refundable once the order is processed. E-cards are sent directly from our supplier Your Digital Reward.Gift Uber Eats to the people you care about, or add value to your Uber Eats account.
The Uber Eats app is the easy and reliable way to get the food you want, delivered fast and fresh. Tap the app and pick from hundreds of full menus from local restaurants and have your order delivered to you at Uber speed. Plus, payment is automatic—no cash, no card, no hassle.
- Order from hundreds of local restaurants
- Choose from full menus
- Track delivery
- Cashless payment
---
Product Terms & Conditions
By using this gift card, you accept the following terms and conditions: This card is redeemable via the Uber®? or Uber Eats app within the U.S. in cities where Uber or Uber Eats is available. The card is non-reloadable and, except where required by law, cannot be redeemed for cash, refunded, or returned. You may be required to add a secondary payment method to use this gift card with the Uber or Uber Eats app. The card is not redeemable outside the U.S. Issuer is not responsible for lost or stolen cards, or unauthorized use. Depending on the state of purchase, this card is issued by Bancorp Card Services, Inc. or The Bancorp Bank. For full terms and conditions and customer service, visit uber.com/legal/gift.