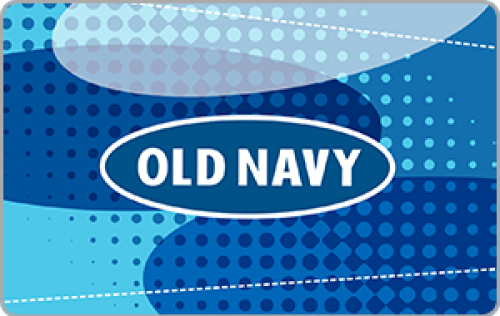 Product Description, Terms and Conditions is provided by product owner.
Description
E-cards are not sent automatically upon redemption. Orders will be fulfilled within 2-7 days of redemption. Once the order is fulfilled, you will receive a confirmation email and then the reward within 30 minutes. Please check your junk mail or contact support@tellwut.com if you did not receive your order. Cards are non refundable once the order is processed. E-cards are sent directly from our supplier Your Digital Reward.

Old Navy offers great fashion at great prices, for the entire family. Whether you are looking for denim, graphic tees, or wear-to-work style on a budget, Old Navy has what you need. For the nearest store, call 1-800-OLD-NAVY or shop around the clock at oldnavy.ca.
---
Product Terms & Conditions
This eGiftCard is issued by and represents an obligation of Old Navy (Canada) Inc. and Gap (Canada), Inc. The eGiftCard may be redeemed for merchandise at any Gap brand, Old Navy, Banana Republic, or Athleta location, including Outlet and Factory stores. The eGiftCard may also be redeemed online for merchandise at gapcanada.ca, oldnavy.ca, bananarepublic.ca and athleta.ca. If you return merchandise originally purchased with an eGiftCard, any refund will be issued in the form of a plastic gift card issued by Old Navy (Canada) Inc. or Gap (Canada), Inc. which may be used at any of these stores or websites. Any merchandise purchased with an eGiftCard is subject to the applicable store or online return policies. Purchases will be deducted from the amount of this eGiftCard until the value reaches zero. This eGiftCard may not be used or redeemed with certain promotional offers and may not be applied as payment on any account. You may not use an eGiftCard to purchase other eGiftCards. Value may not be added to this card, new card purchase required for additional value. Not redeemable for cash unless required by law. Restricted to use in the USA, Puerto Rico and Canada. Limit 5 eGiftCards redeemable per online transaction.